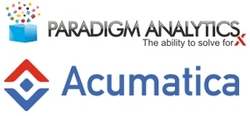 Acumatica's ERP and CRM solution is ideal for performance management because it provides timely access to customized reports and dashboards that are linked to core financials
Bethesda, MD (PRWEB) August 17, 2009
Acumatica, a provider of web-based accounting, ERP, and CRM software, and Paradigm Analytics, a leading consulting firm providing performance management and ERP solutions, today announced a partnership to help mid-sized businesses capitalize on the value of their corporate data.
Paradigm Analytics will offer Acumatica's software to deliver customized performance management solutions to business clients. Using the Acumatica solution, businesses can organize financial data, customer data, vendor data, inventory, business documents, and more to deliver a complete view of their business to make informed decisions.
"Acumatica's ERP and CRM solution is ideal for performance management because it provides timely access to customized reports and dashboards that are linked to core financials," said Bradley Bertchie, Director at Paradigm Analytics. "The fact that Acumatica is web-based means that information can be distributed to everybody in the company who has a browser and proper authorization."
"We are pleased that partners such as Paradigm Analytics can extend Acumatica to specific applications such as corporate performance management," said Kenneth Del Gobbo, Director of Worldwide Channel Sales for Acumatica. "We designed the product to be customizable on many levels so partners can use their business and technical expertise to deliver focused solutions using our ERP and CRM modules."
Availability:
Customers may request a demonstration or purchase Acumatica from Paradigm Solutions by calling 602-343-1810 or sending a request to sales (at) paradigmanalytics (dot) com. Paradigm currently has offices in Chicago, Denver, and Phoenix.
About Acumatica
Acumatica develops an integrated set of web-based accounting, ERP, and CRM software that can be deployed on premise, hosted at a datacenter, or run on a cloud computing platform. Using Acumatica, mid-sized businesses can access their applications and documents from anywhere using any popular web-browser. Acumatica streamlines business tasks such as accounting, financial reporting, customer management, customer invoicing, vendor payments, expense reporting, inventory management, and much more. Acumatica includes a complete set of business applications, reporting tools, and customization tools. Acumatica is distributed through a world-wide network of partners. Visit Acumatica's website to learn more about its web-based accounting, ERP, and CRM software.
About Paradigm Analytics
Paradigm Analytics is a leading consulting firm providing Business Intelligence and Performance Management solutions. Paradigm's solutions for business intelligence and performance management help mid-size businesses capitalize on the value of their corporate data, enabling organizations to become more agile and competitive by providing organizational alignment, visibility, and greater confidence in achieving performance management metrics and goals. For more information, visit http://www.paradigmanalytics.com.
###