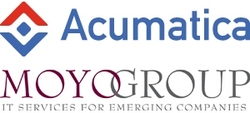 The business processes and requirements of emerging companies continually changes as their business grows
Bethesda, Md. (PRWEB) September 15, 2009
Acumatica, a provider of web-based accounting, ERP, and CRM software, and Moyo Group, a leading application and managed services firm in California, today announced a partnership to help mid-size and emerging companies automate business processes to build a solid technical foundation for growth.
Moyo Group will offer clients Acumatica's software to deliver adaptable ERP solutions that can be installed on-premise or acquired using a SaaS-model. Using the Acumatica solution, Moyo Group clients can create financial reports, accept sales orders, create invoices, approve expense reports, enter timesheets, manage customer leads, issue purchase orders, manage inventory, collaborate on business documents, and more following customized business processes.
"The business processes and requirements of emerging companies continually changes as their business grows," said Mark Richards, President of Moyo Group. "Acumatica works the way our customers do by providing access from anywhere, powerful customization tools, customized workflows, and the ability to switch between on-premise and SaaS driven solution with a very cost effective model."
"Acumatica provides software which adapts to customer needs by providing customization and deployment options," said Ezequiel Steiner, CEO of Acumatica. "The Moyo Group is well positioned and well located to deliver these benefits to rapidly growing businesses with changing needs."
Availability:
Customers may request a demonstration or purchase Acumatica from Moyo Group by calling 1-408-257-6696 or sending a request to sales(at)moyogroup(dot)com. Moyo Group is headquartered in Cupertino, CA.
About Acumatica
Acumatica develops an integrated set of web-based accounting, ERP, and CRM software that can be deployed on premise, hosted at a datacenter, or run on a cloud computing platform. Using Acumatica, mid-sized businesses can access their applications and documents from anywhere using any popular web-browser. Acumatica streamlines business tasks such as accounting, financial reporting, customer management, customer invoicing, vendor payments, expense reporting, inventory management, and much more. Acumatica includes a complete set of business applications, reporting tools, and customization tools. Acumatica is distributed through a world-wide network of partners. Visit Acumatica's website, http://www.acumatica.com, to learn more about its web-based accounting, ERP, and CRM software.
About Moyo Group
Moyo Group provides a complete suite of IT services to emerging and mid-sized companies, helping them build a solid technical foundation for growth. Moyo Group's team consistently exceeds client expectations and earns their trust by delivering superior service, professionalism, and knowledge. For more information, visit http://www.moyogroup.com.
# # #