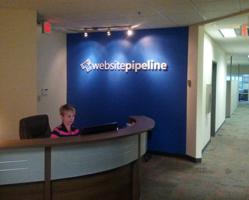 We wanted to aggressively attack the Sage 300 market by offering customers a full package with a quick turn around.
Greenville, South Carolina (PRWEB) February 28, 2013
The company's new "5.5.5." program offers a quick and affordable solution for businesses to have a full-featured, hosted Ecommerce website package with Sage 300 ERP integration. What does 5.5.5. stand for? That's $5,000 for software, $5,000 for service and delivered in just 5 days. Brian Nunes, Marketing Director, conveys "We wanted to aggressively attack the Sage 300 market by offering customers a full package with a quick turn around."
Sage 300 is an ERP software solution targeted to small and medium sized businesses. It provides management tools to connect the accounting, distribution and inventory areas of the business. Website Pipeline offers a complete ecommerce solution that seamlessly integrates with ERP software.
This powerful package provides ecommerce solutions to any company with a product. Manufacturers, distributors and retailers requiring a full-featured ecommerce solution with accurate, up to date data across all systems can cost-effectively fulfill their needs in five days. This will eliminate the necessity for maintaining two completely separate databases - the software updates the website from the ERP in real time. The new offering includes an easily navigable website, feature-rich product catalog with pricing that automatically syncs from the ERP when the customer logs in, an advanced shopping cart, a customer portal containing all applicable data from the ERP, automated emails, an easy to use content management system, real time ERP integration, and cloud services. The software, along with the set up, implementation and testing services completes the offer.
The product was developed from the understanding that integrating an ERP to a company's website just makes sense. This is what Website Pipeline does and they do it well. The product is scalable to meet the needs of any sized business or type of product based business. With ERP integration, product catalogs are able to handle different pricing, taxes or shipping depending on the type of customer. This enables a website to serve both B2B and B2C customers in one place. A company's assets and client history is a vital part of the business and syncing this information as well as inventory levels, shipping information and product pricing is all crucial. Website Pipeline was built as a solution to a problem that plagues many businesses; how the ecommerce experience can offer the same personalization and history as a phone call with a representative hooked into the ERP.
Website Pipeline was founded in Greenville, South Carolina in 1999, and the offices were located in the CEO's basement. Today the 7200 square foot office space in downtown Greenville houses 34 full time employees along with multiple secure data centers and has, for the past two consecutive years, landed on Inc.'s top 5000 fastest growing companies list. Website Pipeline is committed to personal customer service and has the resources to find solutions for any company using an ERP that needs ecommerce integration. Visit http://sage300.websitepipeline.com/ to learn more about the "5.5.5." offer. To learn more about other products, the sync tool or partnering opportunities visit the website at http://www.websitepipeline.com or call 800-266-3579.