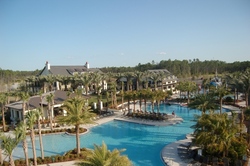 We have designed the aquatics park, both in materials and architecture, to grow with the community while maintaining its lasting quality and value.
Ponte Vedra, FL (Vocus) July 19, 2010
The environmental design firm of Ervin Lovett Miller (ELM) has completed the highly-anticipated Nocatee Splash Water Park, located in the master-planned Nocatee community in Ponte Vedra. ELM served as the architect and landscape architect for the aquatics facility, which opened April 10 as the only one of its kind and size in the region.
"The developer of Nocatee, The PARC Group, requested an aquatics and recreational facility that was consistent with the quality and feel of the Nocatee community," said ELM partner Russ Ervin. "Our goal was to design an aquatics center commensurate with the size of the community while also considering Nocatee's future growth. As a result, we have designed the aquatics park, both in materials and architecture, to grow with the community while maintaining its lasting quality and value."
The completed Nocatee Splash Water Park includes an array of interactive water features including: a 53-foot slide tower with dual high-speed slides that will be known as the Rip Tide Slides; a 450-foot Lazy Tides River; a 9,500 square-foot lagoon pool; and Splash Cove, an interactive sprayground with a zero-entry shallow-access pool for children. The aquatics facility has been designed to allow for expansion as the community continues to grow.
Designed within the Nocatee Splash Water Park are additional recreational amenities
designed by ELM including cabanas for concessions and restrooms, sand volleyball courts, a formal event lawn, three activity lawns, and a children's playground. The Crosswater Hall clubhouse serves as a space for social and civic activities, community meetings and social functions, while the fitness center provides residents with modern cardio and strength-training equipment. The park's design also includes a non-swimming lake with overlook views of the community's nature preserves.
The Nocatee Splash Water Park is the focal point of Nocatee's 75-acre Community Park, also planned and designed by ELM, that includes multi-purpose playfields, a concession building, a dog park, recreational trails, tennis courts and community parking, all of which are complete and actively used by residents. The Nocatee Community Park is located in the heart of Nocatee and serves as an important link to the community's neighborhoods, amenities and roadways. An extensive series of greenways, trails and boardwalks have been designed to weave through the neighborhoods and the natural areas in Nocatee, providing residents with biking, jogging or walking access to the park and other areas of the community.
Upon completion, Nocatee will have more than 300 acres of parks as well as neighborhoods that will be connected by an extensive network of trails. The new Nocatee Town Center, which is currently under construction, will be a pedestrian-friendly urban village atmosphere with retail, dining, boutiques, banks and grocers, including a newly opened state-of-the-art Publix Supermarket.
About Ervin Lovett Miller
Ervin Lovett Miller (ELM) is a leading environmental design practice that creates sustainable, inspired places for people. The firm's leadership, innovation and collaborative spirit is applied to the disciplines of planning, architecture, landscape architecture, urban design, interiors and environmental graphics. ELM's commitment to design, sustainability and a multidisciplinary perspective brings value to national and international mixed-use, urban, commercial, residential, destination resort communities, retail, education and civic projects.
For more information about Ervin Lovett Miller, visit http://www.ervinlovettmiller.com or call (904) 296-8066.
CONTACT: Jackie Artybridge at (904) 280-7960
COMPANY CONTACT: Russ Ervin at (904) 296-8066
###