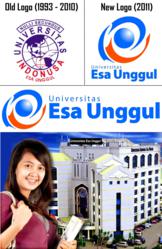 The vision of Esa Unggul University is to become one of the world class universities based on intellectuality, creativity and entrepreneurship that are excellent in quality, management and result of Tridarma Perguruan Tinggi implementation.
Jakarta, Indonesia (PRWEB) June 11, 2011
In 2011 the name of INDONUSA Esa Unggul University was officially changed to Esa Unggul University using a new logo, toward improvement with three pillars of excellence: Entrepreneurship, Information Technology, and Communication Skills.
The pillar of entrepreneurship is intended to create autonomy in work and capability for the creation of job opportunity. As we know in many countries, nowadays, entrepreneurship has become a paradigm for the development of economy and human resources. Even in the civitas academica environment, there has been a shift of discourse and orientation from Research University, or a university based on research, to be an Entrepreneurship University, or a university based on entrepreneurship.
Esa Unggul University seriously develops the pillar of entrepreneurship by giving provision on business motivation for new students, entrepreneurship lecture, creative business competition, and business proposal, entrepreneurship job training, seminar, discussion, industry visit, business incubator, opening access for business capital to graduates, business consultation as well as the creation of atmosphere, which encourages their spirit of entrepreneurship.
The pillar of information technology is implemented through the application of an e-learning model equipped with e-library facilities, multimedia devices and video conference in every class, supported with integrated information system in organizing the activities of students, academic, finance, student admission and lectures.
The pillar of communication is implemented through improvement of students' language proficiency with TOEFL/TOEIC score as standard measurement.
The Milestone of Esa Unggul University
The academic quality and service at Esa Unggul University is intensively getting improved. A target that is going to be achieved is the creation of a center of excellence based on ICT (Information Technology and Communication) that is conducive for the implementation of qualified learning process and the development of sciences.
We do hope that with the support of information technology and communication in the academic activities, students' achievement will be increasing and lecturers will become more productive with their scientific works. Its realization has been starting since 2005, in which EUU has implemented a learning management system supported by a website connected with optic fiber and multimedia classrooms. The learning system, facilitated with that ICT technology, is so-called Esa Unggul Hybrid Learning.
With that additional learning model, which functions as supplement for teaching and learning activities in the classrooms, students will be able to get enormous access to a wide range of information and learning sources, and will accelerate students' independence in mastering science and technology.
Furthermore, the library at EUU University has gradually been developed into a cyber one. Nowadays, most of lecturers' and students' scientific works have been documented and can be accessed through electronic media, and it has been connected with thousands of EBSCO electronic journals, Science Direct and Pro Quest. At present, EUU has built an optic communication network infrastructure and broad band connection with huge bandwidth. EUU has aimed at the fulfillment of internet connection with its ratio similar to that in developed countries.
EUU is an institution with multi units consisting of 9 faculties and 20 study programs as well as 19 supporting administration units. Such condition influences architectural design of information system which demands the integrity of information resource units at EUU environment. Therefore, with competitive grants won in 2009 EUU begins perfecting its information system and services on campus, with its main agenda to integrate all information systems existing.
The integrated information system scheme developed comprises two aspects; they are vertical and horizontal integrity. Horizontal integrity means that there is interconnectedness among units, so that a unit can exchange information with another unit quickly and accurately. Whereas vertical integrity means that existing information in this institution can be summarized into various executive information which can be a basis for a good decision support system. That information can be soon accessed through various media.
From institution management, EUU has succeeded in formulating and implementing a structure and new organization system management that are more adaptive both for internal and external needs, corresponding principles of good governance. More specifically, EUU has added some new service units including the facilities such as a counseling unit, career center, and entrepreneurship development institution.
Contact us:
Esa Unggul University
Jalan Ajuna Utara No. 09, Tol Tomang
Kebon Jeruk, West Jakarta, Indonesia 11510
Phone: +621 5674223 (hunting), +621 5682510. Fax: +621 5674248
E-mail: humas [at] esaunggul.ac.id or pmb [at] esaunggul.ac.id
Website: http://www.esaunggul.ac.id
###