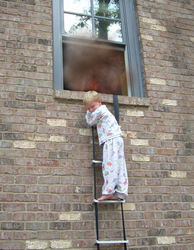 Our primary objective with this program is to provide both early detection and escape options which will ultimately save lives and minimize the risk of fire-related injuries
Atlanta, GA (PRWEB) February 6, 2008
Palladium Security, an Ontario-based home security dealer, today announced their plan to drastically improve residential safety for Canadian citizens. The company is the first Canadian home security company to offer the PEARL permanently-installed escape ladder to residents, home builders and retailers across Canada.
This announcement marks the first widespread availability of any permanent escape ladder solution to the Canadian market. Palladium Security, an established independent security dealer located in the Greater Toronto Area, will offer the PEARL ladder to its current residential customer base as well as introduce PEARL to security dealers and retailers in other provinces. In addition to offering and installing the PEARL ladder, Palladium Security will continue to install and service electronic residential security systems, video and card access systems, as well as provide monitoring services for intrusion, smoke and carbon monoxide.
PEARL Protected® developed its patented Permanent Escape And Rescue Ladder (PEARL®) to provide residents with a safe, easy-to-use escape option from upper story rooms in the event of a fire, home invasion or other emergency. Unlike portable escape ladders, PEARL is recessed into the interior wall space beneath second or third story windows, providing homeowners a means of escape that is always where they need it, when they need it. The ladder can be deployed quickly and easily using a simple Open, Throw and Go® technique -- open the window, throw out the ladder and go to safety.
"While the ladder is an outstanding, and potentially life-saving product on its own, PEARL is a natural extension for homes equipped with a security system", said Steve Kolovos, a principal of Palladium Security. "The PEARL ladder ensures added security for family members by providing an alternate and quick exit out of the house which undoubtedly will save many lives. This kind of peace of mind is invaluable."
In addition to adding PEARL to their product line, Palladium has taken home fire safety one step further by creating a complete home safety package. Their Ultimate Fire Protection Solution includes an escape ladder, control panel, keypad and monitored smoke detector triggering a quick response from the 24/7 monitoring facility, immediate dispatch of emergency services and a warning call to home occupants.
"Our primary objective with this program is to provide both early detection and escape options which will ultimately save lives and minimize the risk of fire-related injuries," said Joe Cosentino, a Palladium partner. "Fire can spread quickly and a few seconds can be the difference between a safe escape and serious injury or death. Early detection is the key to mobilizing home occupants into action and the PEARL ladder provides an alternate escape route from upstairs bedrooms. This combination is a first in Canada and will offer families the security they deserve" added Mr. Cosentino.
Residential fire safety continues to be one of the top home safety concerns facing Canadian residents. According to Fire Prevention Canada's most recent statistics, there are approximately 22,000 residential fires each year resulting in 222 deaths and thousands of injuries. Palladium Security hopes to significantly reduce these numbers in the coming years. By offering a combination of advanced home security detection and monitoring solutions with a readily-available means of escape, the company will ensure residents have a multi-tiered and comprehensive approach to protecting life and property.
The PEARL Ladder is available to consumers through security dealers across Canada in addition to builders, retailers and direct online purchase. Interested homeowners can visit the Palladium Security website at http://www.palladiumsecurity.ca to learn more about PEARL and view video demonstrations.
About PEARL Protected
Headquartered in Atlanta, Georgia, PEARL Protected is redefining the standards of home and fire safety through its patented, breakthrough product - PEARL - a revolutionary Permanent Escape And Rescue Ladder that can be quickly and easily deployed in the event of a residential fire or other home emergency. It is currently available through a variety of channels, including the nation's largest home builders and building supply dealers. PEARL can also be ordered directly through the PEARL Protected website (http://www.pearlprotected.ca) or via phone at 800.374.5737.
###