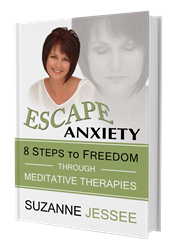 Once you've made the decision to let go of the things you cannot change, you'll find the mental energy to focus on things you can change.
(PRWEB) February 19, 2015
Suzanne Jessee has been recognized as an expert in the field of Neurogenesis Meditative Therapy, a system that can be used in the comforts of home for those who can't take the time to spend years of weekly visits to a therapists office that doesn't specialize in stress and anxiety recovery management. As the focus of her Public Television special, Suzanne shared her knowledge of anxiety management with the world through 8 Vital Steps to Managing Anxiety. Now, Suzanne is bringing this wisdom into readable form with the publication of her new book, ESCAPE Anxiety: 8 Steps to Freedom Through Meditative Therapies.
As seen at http://www.ESCAPEanxiety.com/about/, Suzanne Jessee has worked for the past decade in environments that treat chemical dependency and offer dual diagnosis treatment. As a vital part of this therapy, Suzanne has honed her ESCAPE Anxiety processes by helping thousands of people suffering from debilitating anxiety, allowing them to find peace and happiness.
The book was launched on February 3, 2015, and is available at http://www.escapeanxiety.com/book/. ESCAPE Anxiey: 8 Steps to Freedom Through Meditative Therapies is an integral part of the entire ESCAPE Anxiety In-Home Therapeutic System, which allows those who want to practice these techniques to do so from the comfort and privacy of their own homes.
The ESCAPE Anxiety In-Home Therapeutic System includes an introductory video, 10 Audio Therapy Treatments, a Therapeutic Workbook Journal, three free gifts and a series of inspirational and informative webinars by Suzanne. For more information, see http://www.ESCAPEanxiety.com/products/. Suzanne offers a 14-day free trial of her system for anyone who orders.
According to Suzanne, "The therapies I use in ESCAPE are the same exercises, journaling and meditative therapies I have used to help literally thousands of people suffering with the debilitating effects of anxiety and find their escape to peace of mind, body and spirit. ESCAPE Anxiety is the culmination of my clinical understanding of anxiety disorder, paired with elements of the absolute best, evidenced based psychotherapies known to science for both treatment and prevention of anxiety disorders."
About Suzanne Jessee:
Suzanne Jessee holds a Master's Degree in therapy and is the creator of the ESCAPE Anxiety in-home therapeutic program. She has worked and trained in the world's leading hospitals and treatment centers including the Betty Ford Center, Brighton Hospital, Foundations Recovery Network and Dawn Farms, helping many people find ways to escape the debilitating effects of anxiety and reclaim their lives.