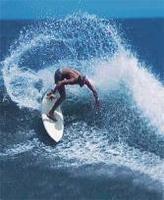 Aprender español y Aprende a surfear
Atlanta, GA (Vocus) July 28, 2010
LearnSpanishAndSurf joins EscapeArtist.com as a Strategic Media Partner to help educate their 400,000 subscribers to their EscapeFromAmericaMagazine about the opportunities and advantages for learning Spanish and taking surfing lessons in Central and South America off the warm coastal waters of Costa Rica and Ecuador. This dual opportunity for learning and pleasure offers students of all ages a once-in-a-lifetime and unforgettable experience for taking advantage of a total immersion opportunity.
EscapeArtist, the leading website for International travel, receives more than one million unique visitors a month from their global readership. Recently, EscapeArtist has received an increased interest from their readers regarding opportunities for 'total immersion learning for Spanish,' and are pleased to announce their new partnership with LearnSpanishAndSurf.com so their readers can, "Aprender español y Aprende a surfear," Or, "Learn Spanish and learn to surf."
As people in the US travel more to Latin America to retire and own second homes, there is an enormous boon in popularity to learn to speak Spanish in classroom settings offered in the US and other countries. Plus, in today's competitive US job market, it's also a good idea to learn Spanish as a second language to improve employment possibilities as bilingual employees often receive larger salaries. And, while you're learning Spanish, you can also train to become a professional PADI Dive Master. Spanish is the second most important language for Dive instructors to learn for employment.
Total immersion learning of the home-country of the chosen language is also on the rise as the preferred way to learn a language; students are able to combine a language course and learn the proper use of grammar, speaking and writing, as well as learning about the habits, traditions and culture of the country. Total immersion 'in country' places language students in a privileged and unique position to practice Spanish with locals and in social situations as a way of enhancing their proficiency in their chosen language. They will also hear the language being spoken on the radio, television and see it in writing in every form of written word. And, in the case of LearnSpanishAndSurf, students are also able to learn to become proficient in surfing during their visit.
LearnSpanishAndSurf offers a unique perspective for offering total immersion Spanish lessons from highly qualified professional instructors, followed by surfing lessons in the crystal waters along the Central American coastline. This unique perspective for learning and playing is an ideal match for the EscapeArtist readers enjoy SERIOUS FUN and seek opportunities for pleasure and exploration of novel places, ideas, cultures, and skills.
Brock Higdon, owner of LearnSpanishAndSurf is a former Spanish immersion student himself, and lived in Costa Rica for over a year while visiting many Spanish immersion schools to include in his exclusive offerings. He is quoted as saying, "Learning is easier if you're relaxed and having fun. We offer Spanish speaking schools in two beach locations in Costa Rica, Playa Tamarindo, the surfing capital of Costa Rica, and Playa Jaco.
"For those who want to be closer to the city, we also offer a school in San Jose, Costa Rica. The school there is an old farm house surrounded by tropical gardens. You can also stay with a local Costa Rican family to learn the routines and habits of a family and see how they live their lives. Costa Rica offers almost 800 miles of spectacular coastline ideal for surfing along the Pacific and Caribbean coastlines."
On the Pacific coast of Ecuador, LearnSpanishAndSurf offers Spanish schools and surfing in Manta and Montanitia. Learn Spanish and surf in Montañita, a multicultural beach town and surfing capital of Ecuador, and meet tourists from all over the world. These are both magnificent locations for travel that are rich with culture and great beauty.
Brock's company also offers a Teen Spanish and Surf Camp for teens 14-17 years of age through ISLS, a world-leader in Spanish Immersion Programs who have been offering their camps for the past 18 years to thousands of students and parents seeking summer educational programs. The students have the opportunity to surf off several beaches including Playa Dominical, Costa Rica, which offers some of the best surf breaks in Central America.
As EscapeArtist introduces LearnSpanishAndSurf to its loyal readership, they anticipate a warm global response for their newest Strategic Media Partner.
###