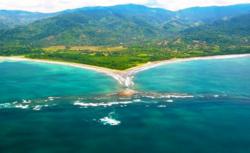 Dominical serves as the perfect base for exploring Bahia Ballena's gorgeous beaches.
San Jose, Costa Rica (PRWEB) April 03, 2013
Located on Costa Rica's south Pacific coast, Bahia Ballena made Travel & Leisure's latest list of the "Hottest Travel Destinations of 2013." The respected U.S. magazine is enjoyed by nearly 5 million people worldwide and recently rated the planet's up-and-coming travel destinations, which included such far flung places as Nepal, Argentina's Uco Valley and Zambia, along with a few that were closer to home.
Ireth Rodriguez, Marketing Director for the Costa Rican Tourism Institute (ICT), commented that Bahia Ballena – or Whale Bay – is home to biodiversity, and is an attractive destination for responsible travelers, nature lovers and sustainable tourism. Named after the humpback whales that frequent its temperate waters, this alluring beach vacation rental destination is situated just south of Dominical – a seaside hamlet that often serves as a base for visiting tourists. Rodriguez added, "This recognition is very important because it reinforces the work that has been done to promote the destination. The area is visited by large numbers of tourists, who are attracted by the beauty of the South Pacific and the variety of activities."
Bahia Ballena is perhaps most renowned for its phenomenal whale watching opportunities, as the warm seas host humpback whales from December through April. Visitors can also observe bottle-nosed dolphins throughout the year along the rugged coastline. Aside from dolphin and whale watching, the region boasts a variety of tropical flora and fauna, and breathtaking beaches like Uvita, Playa Ballena and Dominical. In light of the growing number of travelers to the south Pacific area, Escape Villas – a local vacation rental operator – has recently expanded its portfolio of beach vacation rentals in this burgeoning holiday destination. Spokesperson Sara Hopkins confirms that the company acquired nine new properties in Dominical this past year, including a deluxe villa rental that overlooks the Dominical shoreline, just a few minutes from Ballena National Marine Park.
Featuring authentic Guatemalan architecture, this Dominical beach rental has 8,500 square feet of living space, and offers five bedrooms and a private infinity edge swimming pool with panoramic views of the Pacific Ocean. In regards to current vacation rental bookings in the Bahia Ballena area, Hopkins stated "With so much media coverage on the spectacular adventure and nature offerings in the region, Escape Villas wanted to offer more choices for travelers seeking comfortable and affordable accommodations in Dominical. We are extremely excited about this new oceanfront luxury rental, and have had great feedback from guests who've enjoyed its amenities thus far."
Costa Rica has been on travelers' radars for decades and has long been considered a premiere eco-tourism destination. Visitors to Bahia Ballena have access to a wide range of tours including horseback riding, surfing, nature hikes, kayaking, snorkeling and scuba diving. And those who visit between May and November also have a chance to witness endangered sea turtles nesting along the protected beaches – both the Olive Ridley and hawksbill sea turtles frequent the crescent-shaped shores of Ballena National Marine Park every year. The 13,000-acre park protects crucial habitats such as coral reefs, mangrove estuaries, rocky islands and beaches.
Costa Rica has garnered several international awards for tourism over the past year, and as Sara Hopkins believes, the country's reputation as a world-class vacation destination will continue to attract millions of tourists in coming years. Hopkins states, "With the increasing popularity of Costa Rica vacation rentals, Escape Villas is anticipating another terrific year and are bookings are up by ten percent. Our new Dominical villas are just 11 miles north of Bahia Ballena, which is one of the nation's national treasures."