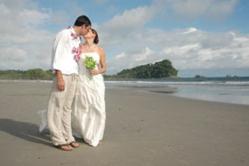 More couples are considering a destination wedding in Costa Rica for sheer affordability.
Manuel Antonio, Costa Rica (PRWEB) January 30, 2013
One of Costa Rica's top vacation rental companies specializing in luxury beach rentals, Escape Villas announced a 15 percent increase in destination wedding bookings this past year, and anticipates an even larger growth in 2013. In addition to villas and vacation rentals in some of the country's most sought-after locales – including Tamarindo, Manuel Antonio and Papagayo – Escape Villas collaborates with professional wedding planners, offering engaged couples their dream destination wedding in paradise.
In a 2012 survey published in the Knot.com, a leading bridal and wedding website, Costa Rica tops the list as Latin America's best place to say "I Do." Boasting exotic wildlife, miles of white-sand beaches, and breathtaking scenery at every turn, the country has long been cherished for its romantic ambiance and tropical landscapes. And when you factor in the wealth of outdoor adventures and posh accommodations available, it comes as no surprise that 25% of all Latin American destination weddings take place in Costa Rica.
Among the 2,757 surveyed couples who enjoyed destination weddings in the past two years, some 70% stayed at the wedding destination for at least a portion of their honeymoon. With Costa Rica's proximity to the States and comparatively low wedding costs, more couples are considering a destination wedding abroad to celebrate their upcoming nuptials, and many extend their stay to include a honeymoon.
"Apart from Costa Rica's fabulous weather and idyllic beaches, couples have access to our exclusive portfolio of deluxe beach vacation rentals and premium wedding planning services, ensuring their special day is just as they had envisioned,' explained spokesperson for Escape Villas, Sara Hopkins. Beyond the bragging rights of a Costa Rica wedding, a rising number of couples are considering marriage abroad for sheer affordability.
Even after you consider costs for hotels, flights, and the venue, Costa Rica destination weddings are often much less expensive than a comparable ceremony in the U.S. Ms. Hopkins adds "One of the unexpected perks of our high-end villas and wedding services is the reasonable price tag, sometimes 50 percent less than North American rates. " Another bonus to getting married in Costa Rica is the simple paperwork. Notarized birth certificates are no longer required, as couples need only present a valid passport.
Numerous resorts and Costa Rica rental properties provide wedding packages that highlight the country's gorgeous settings, from sunset beach ceremonies to intimate gatherings near magnificent waterfalls and active volcanoes. Among the country's most notable wedding and honeymoon destinations, Manuel Antonio offers tropical romance and plenty of pampering options: all for a sensible price.
Newlywed couple, Frank and Janine Owen confirms "after reviewing our budget, we realized we could enjoy a spectacular week in Costa Rica with our closest family and friends for the same price as our wedding venue in Washington D.C." The Owens are one of many couples who opted for stylish grandeur at Casa Fantastica – one of Escape Villas' most illustrious Manuel Antonio luxury rentals. Featuring more than 10,000 square feet of incredible architecture and panoramic ocean views, Casa Fantastica lives up to its name, with a capacity of 50 guests, which will soon increase to 80. Featuring a waterfall entrance, three living rooms, a private swimming pool, and stunning master suite with Jacuzzi, the property dazzles with its plush amenities and impressive location.
Hopkins enthuses, "We provide a range of custom wedding services, one of which is a private gourmet chef, who can accommodate the culinary wishes of engaged couples with many popular cuisines, including French, Latin, Tropical Fusion and Caribbean." For nearly 12 years, the concierge at Escape Villas has been helping couples achieve their fantasy wedding in Manuel Antonio with their professional staff and selection of elegant villas.