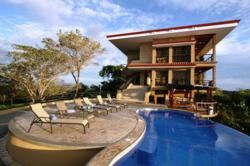 "A Christmas vacation in Costa Rica takes the stress out of the holidays"
Manuel Antonio, Costa Rica (PRWEB) December 19, 2012
As the holiday season approaches, more Americans are planning to travel for Christmas compared to 2011, according to a report by HomeAway, Inc. – an online vacation rental marketplace. The number of families traveling in December is expected to nearly double, rising from 22 percent in 2011 to 40 percent this year.
And while everyone looks forward to a "White Christmas," some families are trading in blankets of fresh snow for the pristine white sands of a tropical beach. Costa Rica has long been a sun-kissed haven for vacationers seeking outdoor thrills and wildlife encounters, and its balmy weather is a welcome respite during the blustery winter season.
Escape Villas, Costa Rica's leading vacation rental company, sees a ten-fold increase in reservations during the holiday season, with the majority of bookings made by large family groups. "One of the terrific features about vacation rentals is that extended families can stay together with all the creature comforts of home – but with a lot more space and privacy. They have their own swimming pool, kitchen, laundry facilities and an array of other amenities at no extra charge," says Escape Villas spokesperson, Sara Hopkins
With an impressive portfolio of villas and vacation rentals in some of Costa Rica's most family-friendly locales, including Manuel Antonio, Tamarindo and Flamingo, Escape Villas caters to those seeking plenty of warm sunshine with easy access to national parks, beaches, nature tours and vibrant nightlife. According to Ms. Hopkins, most guests book their holiday beach vacation rentals at least six months in advance, sometimes even earlier.
On why families choose Escape Villas for their holiday plans, Sara Hopkins explains, "A Christmas vacation in Costa Rica takes the stress out of the holidays, as families can enjoy each other's company in one of the most spectacular places in the world. The kids never forget the year Santa visited their beachfront home, where every day promised a new and exciting adventure." Another built-in benefit to their vacation rentals: private chef services. No more slaving in the kitchen, as families can relax and spend time together while someone else prepares a home-cooked holiday feast.
When considering a holiday rental, timing is everything. Costa Rica has two tourism periods: a high season that lasts from December-April and corresponds with the country's dry weather. And a low season, which runs from May-October, during Costa Rica's rainy months. December and January are known for their fabulous climate, with cool breezes and average temperatures hovering around 82 F.
While prices may be steeper during this peak time, travelers are willing to shell out extra funds to reap the season's many rewards, according to Escape Villas' reservations manager. Recent statistics from a HomeAway, Inc. poll reveal that 31 percent of travelers are booking a vacation rental this December, and 21 percent say they'd pay more for more spacious accommodations, especially those that included a pool or spa tub, kitchen and laundry facilities.
Costa Rica has been a treasured vacation destination for many tourists during the festive holiday months. With its temperate climate, proximity to North America, and wealth of adventure activities, the perks of Christmas in paradise are many. And with more airlines offering direct flights into San Jose and Liberia, travelers have new budget-conscious options for booking their vacation. This past October, Canadian carrier WestJet announced non-stop seasonal service from Toronto to Guanacaste's Liberia terminal. Other low-cost airlines including Spirit, JetBlue and Frontier also provide direct flights from major U.S. cities like New York, Denver and Orlando.
If the current travel trend continues, the team at Escape Villas anticipates another 10 percent increase in their Costa Rica vacation rental bookings for December 2013. Ms. Hopkins confirms "Our experienced concierge is committed to providing the tropical holiday vacation of a lifetime, with engaging activities for the whole family, from zip-line canopy tours and horseback rides to sunset sailing excursions."
Families can celebrate the holidays in contemporary rainforest villas – where playful monkeys are regular visitors – to luxurious oceanfront homes with sublime views. Consider the many advantages of a Christmas vacation in Costa Rica with Escape Villas. Feliz Navidad!