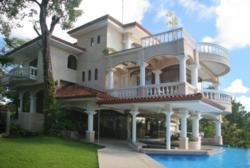 Extra living space, affordability and privacy are reasons why more travelers are choosing vacation rentals.
Manuel Antonio, Costa Rica (PRWEB) June 05, 2013
One of the year's leading travel trends is the popularity of alternative holiday accommodations according to a recent survey by TripAdvisor.com. The company's fourth annual vacation rental survey revealed that nearly half (49 percent) of U.S. travelers have stayed or are planning to stay in a rental home in 2013. Escape Villas, a premier Costa Rica vacation rental operator, has enjoyed a five percent boost in beach villa bookings this quarter, with the majority concentrated in the spectacularly beautiful Manuel Antonio region. Spokesperson Sara Hopkins isn't surprised by the latest TripAdvisor findings, and reports a steady influx of patrons who are seeking a more affordable and authentic vacation experience.
"Our guests are mostly families and large groups of friends who share in the cost of a luxury Manuel Antonio beach rental without sacrificing amenities, comforts or privacy. In the end, it's a real opportunity to save money while on vacation," says Hopkins. TripAdvisor - the world's largest travel site - polled 1,300 travelers in their latest survey, which was published on April 10, 2013. Survey participants appreciated the "unique offerings" that rental homes provide, most notably the spaciousness and family-friendly aspects. Additionally, everyone liked having access to a full kitchen and laundry facilities – enabling travelers to pack light. Brooke Ferenscik, director of communications at TripAdvisor commented, "The survey results show that rental properties continue to be a very desirable accommodation option among U.S. travelers."
Some of the factors that sway tourists to choose a condo, villa or house rental in lieu of a hotel were more living space, great savings – especially with last-minute deals and low season specials, and the privacy that rental homes afford when traveling with large groups. Of the survey respondents, 37 percent said they intend to stay in a vacation home for at least one week, and 53 percent are planning their travels between June and August (peak summer months) and would prefer a beachfront vacation villa rental.
In Costa Rica, which boasts some 800 miles of dramatic coastline, one of the most treasured beach vacation destinations is along the central Pacific shores of Manuel Antonio. Famous for its soft white sands and verdant rainforest, this town is also home to an astonishing diversity of exotic wildlife, most of which lives within the protected boundaries of Manuel Antonio National Park. Escape Villas has an ever-growing portfolio of Costa Rica vacation rentals in this eco paradise, where visitors can partake in hair raising adventure tours ranging from waterfall rappelling and ATV excursions to horseback gallops along back-country roads.
Hopkins adds that all of the Escape Villas properties are meticulously maintained and feature professional concierge assistance including personal chef services, transportation and help with booking eco tours. Among the many lavish amenities are private infinity edge pools, multiple master suite bedrooms, Jacuzzi tubs and several terraces to enjoy panoramic ocean views. "For a large family vacation, our luxury oceanfront villas in Manuel Antonio are the perfect solution. With ample living space, fully-equipped kitchens and room to sleep up to 20 people, everyone has the space and privacy to enjoy activities as they please, regardless of early bedtimes for the kids. And with the ability to cook meals in the comfort of your villa, it's much more cost effective when compared to a hotel."
Escape Villas has dozens of listings that tick all the right boxes when it comes to the features that TripAdvisor travelers are seeking most. The survey found that 25 percent would be most tempted by a private beach; 18 percent are lured by amazing views and a private pool; 11 percent want a large outdoor sun deck, and 7 percent wouldn't mind a personal chef. Hopkins encourages travelers who are planning a Costa Rica beach vacation to ask Escape Villas about their latest promotions and last-minute house rental deals. "We have hundreds of villas and rental homes throughout Costa Rica, and can help families and prospective guests choose the most suitable property for their needs."