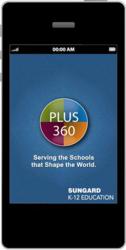 eSchoolPLUS Admin Mobile helps school administrators juggle the demands of their busy days by helping provide them access to their information when they need it.
Bethlehem, PA (PRWEB) April 30, 2013
SunGard K-12 Education, a leading educational software and technology services company, has released a mobile app for its award-winning student information system, eSchoolPLUS. Developed in collaboration with Trifecta Technologies, eSchoolPLUS Admin Mobile App currently enables administrators to access essential student information anytime, anywhere via their iPhone, iPad, or iPod touch.
eSchoolPLUS Admin Mobile App features an easy-to-use, intuitive touch interface that puts student schedules, attendance, medical records, emergency contact information, and other important data at the fingertips of administrators, wherever they might be. And thanks to the app's offline mode, the information is available even when a wireless connection is not.
According to Joel Hames, SunGard K-12 Education senior product manager, eSchoolPLUS Admin Mobile helps make access to critical data and processes easy and secure. "eSchoolPLUS Admin Mobile helps school administrators juggle the demands of their busy days by helping provide them access to their information when they need it," says Hames. "Using the search functionality or by scanning QR and bar codes, administrators can find important details. Yet the application's security, with encrypted data exchange, helps protect student data on the device and in the air."
Trifecta Technologies—a cloud-based business solutions provider headquartered in Allentown, Pa.— worked closely with SunGard K-12 to develop the mobile application that will communicate with SunGard K-12's backend data system using a JSON-based RESTful service.
"Working with SunGard K-12 to design and deploy this innovative mobile application has been a very exciting process for the Trifecta mobile solutions team," says Doug Pelletier, founder and president of Trifecta Technologies. "We're very confident that SunGard K-12 customers will quickly adopt the eSchoolPLUS Admin Mobile App, as it provides the mobility that K-12 administrators have asked for and access to the critical student data they need anywhere, anytime."
The eSchoolPLUS Admin Mobile App provides K-12 administrators with access to important student data, no matter where they are—on or off-campus. When paired with the new eSchoolPLUS notification engine, the app can extend the reach and timeliness of emergency communications. Notifications—which can be reached from the app's dashboard—can now be accessed by school administrators and teachers wherever they are. In the event of a school emergency, administrators will have the ability to retrieve student data when access to the school building, their office, or a computer may be limited.
With eSchoolPLUS Admin Mobile, the district's discipline referral process also is available where administrators may need it—in school hallways, classrooms, and the lunchroom. The tool allows them to add documentation, like photographs and notes, to the referral. The offline mode allows information to be housed securely on the device until a connection is available.
The eSchoolPLUS Admin Mobile App is available for free from the App Store on iPhone, iPad, and iPod touch or at http://www.AppStore.com.
About SunGard K-12 Education
SunGard K-12 Education offers software solutions designed to help teachers, administrators, and parents support student achievement. The PLUS 360 products are a single integrated suite of software solutions for the management of student information, assessment and curriculum, special education, and financial and human resources. The suite—which provides anytime, anywhere access to important district information—can be deployed to work together to help meet educational goals and requirements or implemented as stand-alone systems. For more information, visit SunGard K-12 Education at http://www.sungard.com/K12.
About SunGard
SunGard is one of the world's leading software and technology services companies. SunGard serves approximately 25,000 customers in more than 70 countries and has approximately 17,000 employees. SunGard provides software and processing solutions for financial services, education and the public sector. SunGard also provides disaster recovery services, managed IT services, information availability consulting services, and business continuity management software. With annual revenue of more than $4.0 billion, SunGard is the largest privately held software and services company and was ranked 480 on the Fortune 500 in 2012. For more information, please visit http://www.sungard.com.
About Trifecta Technologies
Founded 22 years ago, Trifecta Technologies develops award-winning, innovative, and high-value cloud, social, and mobile applications. Trifecta is a Salesforce.com Silver Cloud Alliance Partner and Heroku Platinum Partner, with a rich history of helping clients achieve successful outcomes. Trifecta was recently named one of the Top 10 Fastest growing Companies in the Lehigh Valley, one of Best Places to Work in PA 2012, and named to the Inc. 5000 list of Fastest Growing Companies in America. Trifecta is headquartered in Allentown, Pa., with development centers in Toronto, Ontario, and Visakhapatnam, India. To learn more, visit http://www.trifecta.com.
Trademark Information:
SunGard, the SunGard logo, eSchoolPLUS, and PLUS 360 are trademarks or registered trademarks of SunGard Data Systems Inc. or its subsidiaries in the United States and other countries.
iPad, iPhone, and iPod touch are trademarks of Apple Inc., registered in the U.S. and other countries. App Store is a service mark of Apple Inc.
All other trade names are trademarks or registered trademarks of their respective holders.
© SunGard 2013. All rights reserved.
Release Number: 2013 – 0014