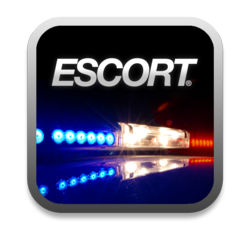 So far ESCORT Live™ has saved me from two potential encounters, and that pretty much pays for itself,
West Chester, Ohio (PRWEB) February 21, 2012
ESCORT Inc. (http://www.ESCORTinc.com), designer of ESCORT Live™, the social network for the road, released version 1.0.2 ESCORT Live™ iDevice update. ESCORT Live™ delivers revolutionary radar and laser ticket protection by using real-time, cloud-based threat and information sharing among countless drivers using the app on their smartphone (iPhone and Android). The v1.0.2 update allows the ESCORT Live™ app to run continually in the background on iOS5 iDevices. With the ESCORT Live™ app operating uninterrupted on their smartphone, networked drivers are continually safeguarded against radar and laser real-time ticket threats even before they are in range of enforcement guns!
Since its recent introduction, ESCORT Live™ has saved networked drivers over a quarter million potential tickets (ESCORT Live™ can alert to all speed enforcement guns and bands used in North America today including laser, Ka, K and X band monitoring devices). In addition to the milestone saving event, the ESCORT Live™ campaign includes support from a national short story contest hosted on ESCORT's Facebook page where drivers share their stories about being "saved" while being a part of the ESCORT Nation. Postings and stories are ranked by visitors who "vote" for the best ticket save story – winners are awarded prizes including ESCORT products.
Named 'best new product, SEMA', Popular Mechanics Editor's Choice and a Car and Driver Top Ten Most Promising New Technology, ESCORT Live™ has received extensive national market exposure.
ESCORT Live™ uses Bluetooth technology embedded in SmartCord Live™ cords and the ESCORT Live™ smartphone app. When alerts are detected, they are transmitted to the ESCORT Live™ "cloud" and then broadcast across the ESCORT Live™ network, notifying drivers of potential ticket threats.
Customer reaction to the ESCORT Live™ app and its social networking protection has been overwhelmingly favorable. "Thanks to whoever was northbound on I-95 in NC near the I-40 interchange! Three EL alerts that I had PLENTY of warning to slow for - well before my detector lit up! Thank you EL," and "So far Live has saved me from two potential encounters, and that pretty much pays for itself," said several random ESCORT Live™ forum users.
In addition to network alerts, the ESCORT Live™ smartphone app technology provides ESCORT's industry-leading Defender® database of red light and speed-ticketing camera locations and speed traps as well as ESCORT's patented GPS features including posted speed limit information, over-speed limit alerts, live traffic for route optimization and more.
ESCORT Live™ and ESCORT's complete line of premium automotive accessories can be seen at ESCORTinc.com or, for more information, call 800.433.3487.
About ESCORT Inc.
ESCORT Inc. is the leading manufacturer of high-performance radar and laser detectors, the patented ESCORT Live™ real-time ticket protection network, commercial fleet ESCORT SmartOffice™ rugged mobile PC, ESCORT MobileTV™, Guardian Alert reverse obstacle detection systems, Entourage GPS-enabled navigation and tracking products, ESCORT QuickStart™ and other Drive Smarter products. ESCORT manufactures products under the ESCORT, PASSPORT, REDLINE, SOLO, Vector and BELTRONICS brands. The company is headquartered in West Chester, Ohio, with its principal manufacturing facility located in Mississauga, Ontario, Canada.
Editorial Contact:
Ron Gividen
Escort Inc.
513.870.8500
press(at)escortinc(dot)com
# # #