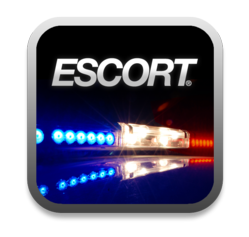 "We are excited about the truly revolutionary level of protection that ESCORT Live™ has brought to radar detector consumers with technology that connects our radar detector users in real-time allowing them to share their experiences with others …"
Dallas-Ft. Worth, TX (PRWEB) April 30, 2012
ESCORT Inc. (ESCORTinc.com), designer and manufacturer of the world's best premium automotive accessories, is returning to the TAWA (Texas Auto Writers Association) 2012 Spring Challenge with its multi-award winning ESCORT Live™ real-time ticket protection app this week.
ESCORT is demonstrating its multi-award winning ESCORT Live™ real-time ticket protection network to TAWA press and media attendees. Currently, the industry leading ticket protection network app with Live Alerts™ is available for ESCORT and BELTRONICS radar detector users with Bluetooth connectivity to their iPhone and Android ESCORT Live™ app.
"We are excited about the truly revolutionary level of protection that ESCORT Live™ has brought to radar detector consumers and, to the category with industry acclaimed technology that connects all of our radar detector users in real-time allowing them to share everything they see in advance with others," said Ron Gividen, ESCORT PR Director. "At this year's Spring Challenge, we will be sharing our advanced 'social network for the road' with TAWA members and writers for their first look."
ESCORT has been a repeat supporter and attendee of the TAWA Spring Challenge held annually at the Texas Motor Speedway where key industry media writers, hosts and clebraties meet to conduct best practices for their specific automotive audiences. The TAWA event also includes attendance by all major automotive manufacturers who present their latest model vehicles to the TAWA attendees for their review.
ESCORT Live™ delivers revolutionary radar and laser ticket protection by using real-time, cloud-based threat and information sharing among countless drivers using the app on their smartphone (iPhone and Android). With the ESCORT Live™ app operating uninterrupted on their smartphone, networked drivers are continually safeguarded against radar and laser real-time ticket threats even before they are in range of enforcement guns.
ESCORT Live™ includes the ESCORT Defender Database which provides the most accurate speed camera, red light camera and speed trap information, alerting drivers in advance so that they can safely navigate high threat locations.
ESCORT Live™ also uses ESCORT's patented GPS features to accurately display the driver's vehicle speed, posted speed limit data and even conveniently alert the driver when they exceed the posted speed limit!
In addition to being included in Edmunds 2012 'Top Ten New Products' list, ESCORT Live™ has also been named a CES 2012 Innovations Design and Engineering Award winner, Car and Driver 'Best New Technology', Popular Mechanics Editor's Choice, and, was named 'Best New Mobile Product' at SEMA with its initial introduction of the ESCORT Live™ radar detector and Smartcord Live™ Bluetooth enabled power cord connected version.
The app features map and dashboard views with multiple alert settings based on user preference.
"Our radar detector products are well known for providing drivers with the highest level of ticket protection available anywhere," Gividen says. "ESCORT Live™ extends live alert range indefinitely so that drivers don't necessarily need to be in the range of the threat as long as they are participating in the ESCORT Live™ nation of networked drivers!"
Get more details on the revolutionary ESCORT Live™ ticket protection network at ESCORTinc.com or call 800.433.3487.
About ESCORT Inc.
ESCORT Inc. is the leading manufacturer of high-performance radar and laser detectors, the patented ESCORT Live™ real-time ticket protection network, commercial fleet ESCORT SmartOffice™ rugged mobile PC, ESCORT MobileTV™, Guardian Alert reverse obstacle detection systems, Entourage GPS-enabled navigation and tracking products, ESCORT QuickStart™ and other Drive Smarter products. ESCORT manufactures products under the ESCORT, PASSPORT, REDLINE, SOLO, Vector and BELTRONICS brands. The company is headquartered in West Chester, Ohio, with its principal manufacturing facility located in Mississauga, Ontario, Canada.
Facts on radar detectors and speeding tickets:

Radar detectors are legal in 49 states (only Virginia prohibits their use)
Multiple public domain sources reveal that more than 50 million drivers receive a speeding ticket in the United States each year – about one in every four drivers
According to trafficticketsecrets.com the average speeding ticket costs $150.00 and the average insurance premium increases $900 over the course of three years
Editorial Contact:
Ron Gividen
513.870.8500
press(at)escortinc(dot)com