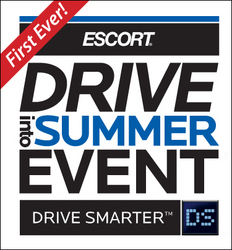 "Our goal with the integrated ESCORT Drive Into Summer Event is to educate consumers to Drive Smarter during their summer road trips," said Dave Smidebush, ESCORT's Vice-president of Marketing.
West Chester, Ohio (PRWEB) May 18, 2010
ESCORT Inc, a leading manufacturer of premium automotive electronic accessories and the world's best performing radar and laser detectors, announced its first ever highly integrated national sales and marketing event in concert with ESCORT distributors, dealers, in-house direct sales and big box stores including Best Buy. The "Drive Into Summer Event" will be campaigned at all sales levels including national, regional and local outlets. "Our goal with this integrated event is to educate consumers to Drive Smarter during their summer road trips," said Dave Smidebush, ESCORT's Vice-president of Marketing. "By raising awareness of our industry leading products, we plan on expanding our ESCORT family of protected consumers," he added.
The Drive Into Summer Event will focus on expanding consumer awareness by presenting ESCORT's premium automotive accessories, particularly their world class leading radar detectors, in educational marketing communications. ESCORT's premium windshield mount model, the award winning PASSPORT 9500ix (GPS enabled radar and laser detector), will be the lead product in the campaign.
The Drive Into Summer Event is now active and will run through July 18. "Our coordinated national marketing campaign will have maximum impact as we will be promoting ESCORT products during the key selling events of Memorial Day, graduation, Fathers Day, July 4th and the summer vacation driving season," said Smidebush. ESCORT and its retail partners will be using TV, print, online, direct mail and point of sale advertising to communicate this limited time offer.
"Summer is the time for people to travel and enjoy the ride," said John Larson, ESCORT CEO and President. "We have world class products designed to add awareness and safety to their driving experience," he added. ESCORT's premium products help consumers feel safe, secure and in control while driving. With ESCORT products, customers don't just drive ... they Drive Smarter.
During the Drive Into Summer Event, ESCORT and participating retailers will offer for the first time ever, a free accessory package consisting of ESCORT's new amazing SuperCup windshield mount and a newly designed accessory SmartCord (combination straight and coiled cord), a $50 retail value. ESCORT has also indicated that it will continue to offer the very popular Test Drive program where customers can test drive new ESCORT radar detectors for up to 30 days risk free. And another first—ESCORT will run its detector trade-in program along with the Drive into Summer promotion.
For more information on the Drive Into Summer Event and ESCORT products, call 1.888.8.ESCORT (1.888.837.2678) or visit online at ESCORTRadar.com.
About ESCORT, Inc.
ESCORT Inc. is the leading manufacturer of high-performance radar and laser detectors, GPS enabled navigation and tracking products and other Drive Smarter products. ESCORT manufactures products under the ESCORT, PASSPORT, REDLINE, SOLO, Vector and BELTRONICS brands. The company is headquartered in West Chester, Ohio with its principal manufacturing facility located in Mississauga, Ontario, Canada.
Editorial Contact:
Ron Gividen
513.870.8500
###