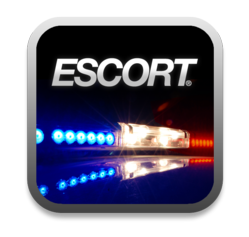 The ESCORT Live™ app provides networked drivers with the ultimate radar and laser real-time threat information, even before they are in range of enforcement guns.
West Chester, OH (PRWEB) November 27, 2012
ESCORT Inc. (ESCORTinc.com), designer of ESCORT Live™, the social network for the road, released ESCORT Live™ V2.0.4 Apple IOS update. ESCORT Live™ delivers revolutionary radar and laser ticket protection by using real-time, cloud-based threat and information sharing among countless drivers using the app on their smartphone (iPhone and Android). The V2.0.4 iPhone update allows improved ESCORT Live™ app performance on Apple IOS devices. The ESCORT Live™ app provides networked drivers with the ultimate radar and laser real-time threat information, even before they are in range of enforcement guns.
Since its introduction, ESCORT Live™ has saved networked drivers millions of potential tickets. The ESCORT Live™ app has now passed the 3 million 'ticket saves' mark. The app can alert to all speed enforcement guns and bands used in North America today including laser, Ka, K and X band monitoring devices.
Available online via Apple smartphones in the App Store, the V2.0.4 ESCORT Live™ Ticket Protection app update includes:

ESCORT Live™ real time radar and laser detector alerts are now audible on the driver's smartphone (optional in app preference setting). This is ideal for smartphone installations and use integrated into the driver's vehicle sound system which results in ESCORT Live™ alerts audible through the vehicle sound system. Similarly, ESCORT Live™ audible alerts are now conveniently available for motorcycle riders or others using the ESCORT Live™ app with connected Bluetooth headsets.
Over-speed-limit warnings are now simultaneously audible during radar alerts. Over-speed-limit alerts provide important additional driving safety information and are made available as they occur for enhanced 'eyes on the road' driving.
Improved app alert performance during vehicle slowed or even stopped traffic situations.
Improved app integrity for previously identified irregular service zip codes.
Updated app to work with IOS 6 and link to Pioneer's AppRadio™ car stereo which, once installed, brings the ESCORT Live™ app to the driver's dash for the ultimate in-vehicle smartphone experience.
Named 'best new product, SEMA', Popular Mechanics Editor's Choice and a Car and Driver Top Ten Most Promising New Technology, ESCORT Live™ continues to receive extensive national market exposure.
ESCORT Live™ uses Bluetooth technology embedded in SmartCord Live™ cords and the ESCORT Live™ smartphone app. When alerts are detected, they are transmitted to the ESCORT Live™ "cloud" and then broadcast across the ESCORT Live™ network, notifying drivers of potential ticket threats.
In addition to network alerts, the ESCORT Live™ smartphone app technology provides ESCORT's industry-leading Defender® database of red light and speed-ticketing camera locations and speed traps as well as ESCORT's patented GPS features including posted speed limit information, over-speed limit alerts, live traffic for route optimization and more.
ESCORT Live™ and ESCORT's complete line of premium automotive accessories can be seen at ESCORTinc.com or, for more information, call 800.433.3487.
About ESCORT Inc.
ESCORT Inc. is the leading manufacturer of high-performance radar and laser detectors, the patented ESCORT Live™ real-time ticket protection network, commercial fleet ESCORT SmartOffice™ rugged mobile PC, ESCORT MobileTV™, Guardian Alert reverse obstacle detection systems, Entourage GPS-enabled navigation and tracking products, ESCORT QuickStart™ and other Drive Smarter products. ESCORT manufactures products under the ESCORT, PASSPORT, REDLINE, SOLO, Vector and BELTRONICS brands. The company is headquartered in West Chester, Ohio, with its principal manufacturing facility located in Mississauga, Ontario, Canada.
Editorial Contact:
Ron Gividen
Escort Inc.
513.870.8500
press(at)escortinc(dot)com