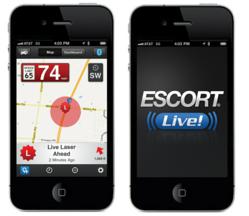 Since its award-winning debut, ESCORT Live™ has been providing app users unmatched radar and laser ticket protection while they drive.
West Chester, OH (PRWEB) June 19, 2013
ESCORT Inc. (ESCORTinc.com), designer of ESCORT Live™, the social network for the road, announced the anticipated update release of its award-winning ESCORT Live™ app to included connection with the all-new PASSPORT Max High Definition radar detector released just last week. From day one of its 'best-in-show' debut, ESCORT Live™ has continued to deliver unmatched radar and laser ticket protection to smartphone app users while they drive. Now ESCORT Live™ will connect with the all-new PASSPORT Max HD radar detector, already being called by industry experts as 'the best radar detector ever'.
The ESCORT Live™ V2.1.0 iOS Apple update (available Apple App Store) features:

Graphics compatibility update for use with IPhone 5
Passport Max seamless connection update
Includes a 'Rate the App' feature for direct user feedback
The ESCORT Live™ app update also includes miscellaneous program fixes and performance improvements
ESCORT announced Android ESCORT Live™ update will follow after this iOS Apple update.
Named 'best new product, SEMA', Popular Mechanics Editor's Choice and a Car and Driver Top Ten Most Promising New Technology, ESCORT Live™ continues to receive extensive national market exposure.
For more information about ESCORT Live™ and the new PASSPORT Max HD radar detector, visit ESCORTinc.com or call 800.433.3487.
About ESCORT Inc.
ESCORT Inc. is the leading manufacturer of high-performance radar and laser detectors, the patented ESCORT Live™ real-time ticket protection network, ESCORT MobileTV™, Guardian Alert reverse obstacle detection systems, Entourage GPS-enabled navigation and tracking products, ESCORT QuickStart™ and other Drive Smarter products. ESCORT manufactures products under the ESCORT, PASSPORT, REDLINE, SOLO, Pro and BELTRONICS brands. The company is headquartered in West Chester, Ohio, with its principal manufacturing facility located in Mississauga, Ontario, Canada.
Editorial Contact:
Ron Gividen
Escort Inc.
513.870.8500
press(at)escortinc(dot)com