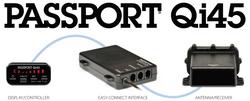 "Dealers ... are looking for ways to increase profitability. We have been working hard to provide a suite of premium automotive accessories to help their customers and add significant profit to their dealerships," said John Larson, ESCORT CEO/President.
West Chester, Ohio (PRWEB) February 10, 2010 —
ESCORT Inc, a leading manufacturer of premium automotive electronic accessories, announced today plans to present at the 2010 NADA (National Automobile Dealers Association) show in Orlando (booth #2857) February 13-15. ESCORT is dedicated to helping automotive dealers increase their opportunities to sell and generate additional revenue streams by offering premium automotive accessories. At NADA, ESCORT will be highlighting the new PASSPORT Qi45 Custom Installed Radar and Laser Detector in an expanded product portfolio featuring radar/laser detection, GPS navigation and security tracking devices. "Dealers have told us they are looking for ways to increase their profitability. We have been working hard to provide a suite of premium automotive accessories to help their customers 'Drive Smarter' and add significant profit to their dealership operation," said John Larson, ESCORT President and CEO. "We want dealers to learn how they can increase each per-vehicle net by a thousand dollars or more when they offer ESCORT premium products for their customers' driving needs," says Larson.
ESCORT's primary focus at NADA will be helping dealers learn how they can increase their individual profits by introducing premium automotive accessories in their own stores. These premium products allow dealers to offer their customers many ways to improve their driving experience, feel safe and secure, and be in control within their driving environment. With ESCORT products, customers don't just drive ... they Drive Smarter.
In addition to revenue from ESCORT product sales, there is a huge dealer opportunity associated with performing the custom installation of several of ESCORT's products such as the PASSPORT 9500ci, the ESCORT SmartMirror and the ESCORT Entourage CIS. As car dealers know, frequently greater margins come from their service bay work. ESCORT has paid close attention and increased this opportunity by introducing a complete custom installed radar and laser detection system designed to take less than 45 minutes of the dealership's service time.
The New PASSPORT Qi45 Custom Installed Radar Detector
The new PASSPORT Qi45™ Custom Installed unit is a quick-install, fully integrated, completely hidden radar detector system. Qi45™ installs in dramatically less time and with fewer components than all other integrated detection systems and offers a significant cost savings to customers while providing increased revenue opportunities for car dealers. "We are extremely excited about the Qi45™ Custom Installed radar detector and what it means for installers in installation time economies," said Tim Coomer, ESCORT's Vice-president of New Product Development. "We wanted to give our dealers a more effective installation solution for the world's best high-end custom installed radar detectors," he added.
The new Qi45 radar detection system is based on 'the World's Best' performing radar detectors, platforms that have repeatedly won multiple 'shootouts' including performance tests by Motor Trend, Popular Mechanics, Forbes, RadarBusters.com and RadarTest.com. "We designed the Qi45™ radar detector to offer ESCORT's world class leading performance at reduced cost and installation time by more than half as compared to competitor installed units," Coomer said.
The new Qi45 design addresses car dealer concerns about allocating scarce shop time resources for performing an accessory installation, like a custom installed radar detector. The Qi45™ is a 'quick install' custom unit that combines traditional connectors, cables and previously separated functionality into a compact, reduced component and connection system. The result is the Qi45™ reduces the final cost to the customer and gives dealers an easy to install accessory.
"With the new Qi45™ radar detector we have given car dealers, who are typically concerned about tying up garage bays, an effective solution to providing their customers with the world's best custom installed radar protection," said John Larson, ESCORT President and CEO. "This is a very dealer friendly product, he added.
ESCORT on Display, NADA Booth #2857
ESCORT's full line of premium automotive accessories will be on display, booth #2857. NADA attendees can learn more about ESCORT's category leading radar and laser detectors such as the PASSPORT 9500ix and Redline; ESCORT's Entourage GPS personal security tracking devices and the ESCORT SmartMirror which includes a technology suite featuring GPS navigation, a backup safety camera and hands-free Bluetooth calling capability in the rearview mirror. The ESCORT team will be available to answer questions and discuss opportunities for dealers to sell their portfolio of 'Drive Smarter' automotive accessories.
ESCORT is encouraging attendees to stop at the ESCORT booth (#2857) and sign up for a free drawing—entry forms will be available during the show. The winner will receive their choice of any ESCORT product including in-dealership training and installation if applicable. Registrations may also be completed online at ESCORTRadar.com or by calling the ESCORT Dealer Hotline at 1.513.870.8539.
About ESCORT, Inc.
ESCORT Inc. is the leading manufacturer of high-performance radar and laser detectors, GPS enabled navigation and tracking products and other Drive Smarter products. ESCORT manufactures products under the ESCORT, PASSPORT, REDLINE, SOLO, Vector and BELTRONICS brands. The company is headquartered in West Chester, Ohio with its principal manufacturing facility located in Mississauga, Ontario, Canada.
Editorial Contact:
Ron Gividen
513.870.8500
###