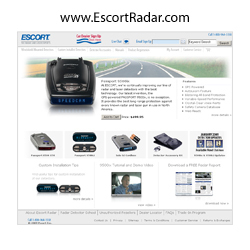 Customers are time-starved and they search for ways to condense routine tasks - our new site gives our visitors tools that reduce the investigation, decision and order process
West Chester, OH (PRWEB) February 2, 2009
ESCORT Radar, maker of the world's best radar and laser detectors, today announced the release of its newest consumer ESCORT website, EscortRadar.com. The new website includes numerous tools chosen for their capacity to enhance customer interaction during site visits. A primary new feature is the opportunity for customers to create permanent on-line personal accounts during their initial purchase. In addition to adding customer controlled profiles, the new ESCORT site features direct email newsletter sign-ups, interactive photos with zoom features, expanded content including streaming media, customer product reviews, enhanced search functionality and a gift registry for aiding in shopping for that ideal gift for someone special.
"Customers are time-starved and they search for ways to condense routine tasks - our new site gives our visitors tools that reduce the investigation, decision and order process," said Rachel Jeske, eCommerce Director. "Our new site enables the customer to quickly understand which product is best for their unique needs - being able to view other user's reviews reassures them of their decision to choose an ESCORT radar detector," she added. "Opening our website for customer posting of public reviews shows our confidence in our products - the vast majority of detector users agree that ESCORT makes the best in the world."
Customers can quickly create their own account during the checkout process. Once completed, the account allows customers to easily view their order history. With an account established, purchases and cart checkout is fast and easy.
All visitors to the site can sign-up for email newsletters - no account is required. The newsletter features articles on radar detector protection, news and featured promotions that change throughout the year.
Often, customers understand the need for driving with a radar detector but they can get overwhelmed by all of the marketing hype pitched at them when they look elsewhere. For the first time on a major radar detector manufacturer's site, customers can write a review so visitors can read what authentic customers think about ESCORT products. Supporting the customer reviews, ESCORT Radar provides facts, specifications and major independent third-party reviews that speak for both the need and the right model for a solution.
Choosing the right radar detector is aided by online articles and user profile matrices that allow the customer to quickly see which radar detector model is best for their situation. And selecting a particular model radar detector is further aided by new and larger photos that feature zoom functionality so the customer can see exactly what their new radar detector will look like. Customer questions are further resolved by the site's expanded search functions and FAQ pages. There is also a Live Chat option for immediate help.
For customers who need help with a custom installed installation, or for customers who do not want to purchase online, the site features a dealer locator for quickly finding the nearest authorized ESCORT retailer near them.
In addition to the new website release, ESCORT future plans include adding Google Checkout and Bill Me Later. The site currently features PayPal checkout and accepts all major credit cards.
Inline with recent social media trends, visitors can also follow ESCORT Radar on ESCORT's new Facebook page.
B-to-B customers can access the sites password protected pages and allow authorized ESCORT dealers and retailers to retrieve marketing, POS and training materials.
About ESCORT, Inc.:
ESCORT Inc. is the leading manufacturer of high-performance radar and laser detectors. ESCORT manufactures products under the ESCORT, Cincinnati Microwave, Beltronics, PASSPORT, SOLO, and Vector brand names. The company is headquartered in West Chester, Ohio with its principal manufacturing facility located in Mississauga, Ontario, Canada.
Editorial Contact
Ron Gividen
513.870.8500
###