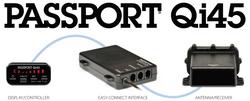 We designed the Qi45™ radar detector to offer ESCORT's world class leading performance at reduced cost and installation time by more than half as compared to competitor installed units
West Chester, Ohio (PRWEB) October 26, 2009
ESCORT Inc., maker of the world's best radar and laser detectors, announced today the release of the Qi45™ Custom Installed Radar and Laser Detector. The new PASSPORT Qi45™ Custom Installed unit is a quick-install, fully integrated, completely hidden radar detector system. Qi45™ installs in dramatically less time and with fewer components than all other integrated detection systems and offers a significant cost savings to customers while providing increased revenue opportunities for car dealers. "We are extremely excited about the Qi45™ Custom Installed radar detector and what it means for customers in cost savings and installers in installation time economies," said Tim Coomer, ESCORT's Vice-president of New Product Development. "We want to give our customers and dealers a more effective installation solution for the world's best high-end custom installed radar detectors," he added.
The new Qi45 radar detection system is based on the award winning PASSPORT 8500 X50 radar detector platform. The PASSPORT 8500 X50 windshield mount radar detector and its design platform have been named 'the World's Best' performing radar detector by 3rd party independent reviewers. And the 8500 X50 has won multiple 'shootouts' including performance tests by Motor Trend, Popular Mechanics, Forbes, RadarBusters.com and RadarTest.com. "We designed the Qi45™ radar detector to offer ESCORT's world class leading performance at reduced cost and installation time by more than half as compared to competitor installed units," Coomer said.
The Qi45™ Custom Installed Radar and Laser Detector continues ESCORT's industry leading role. Long known for effective radar detector innovation and patent producing designs, ESCORT created the new Qi45™ Custom Installed Radar and Laser Detector to offer customers a more comfortable price point for a custom installed solution. And the new Qi45 design addresses car dealer concerns about allocating scarce shop time resources for performing an accessory installation, like a custom installed radar detector. The Qi45™ is a 'quick install' custom unit that combines traditional connectors, cables and previously separated functionality into a compact, reduced component and connection system. The result is the Qi45™ reduces the final cost to the customer and gives dealers an easy to install accessory.
"With the new Qi45™ radar detector we have opened the top-of-the-line detector platform to traditional cost conscious customers and at the same time, we have given car dealers, who are typically concerned about tying up garage bays, an effective solution to providing their customers with the world's best custom installed radar protection," said John Larson, ESCORT President and CEO. "This is a very dealer friendly product. And we have listened to our customers who have asked for a more cost effective custom installed solution--we believe the Qi45™ Custom Installed Radar and Laser Detector is the perfect product to answer these concerns," said Larson. "As always, our goal is to provide our customers every opportunity to drive with the best-in-class products including our top-of-the-line custom installed radar detectors--the Qi45 radar detector meets that goal," he added.
The Qi45™ Custom Installed Radar Detector will begin shipping in the second half of November and will retail starting at just $499.95. The Qi45™ base system is upgradeable to include ESCORT's Laser Shifting System, which provides the ultimate laser protection. For more information on the new Qi45™ Custom Installed Radar and Laser Detector visit Escortinc.com or call our Factory Direct Experts at 800.433.3487.
About ESCORT, Inc.
ESCORT Inc. is the leading manufacturer of high-performance radar and laser detectors. ESCORT manufactures products under the ESCORT, PASSPORT, SOLO, Vector and BELTRONICS brands. The company is headquartered in West Chester, Ohio with its principal manufacturing facility located in Mississauga, Ontario, Canada.
Editorial Contact:
Ron Gividen
513.870.8500
###