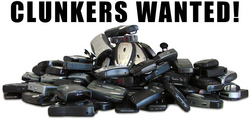 We are excited about the opportunity to offer customers an easy way to increase their protection and get paid for doing it!
West Chester, OH (PRWEB) September 8, 2009
ESCORT Inc., maker of the world's best radar and laser detectors, announced today an added incentive for drivers using older model radar detectors -- "Cash for Clunkers" radar detector Trade-In program. For a limited time, ESCORT radar will give customers $80 credit when they trade in their old out-dated detector on a new one from ESCORT. "We are excited about the opportunity to offer customers an easy way to increase their protection and get paid for doing it!" said Tim Coomer, ESCORT's Vice-president of Marketing. "Just like the incentive to trade older cars for more fuel efficient models, we want radar detector owners to trade their old detectors for new technology that offers complete protection against all the latest threats," he added. "Most drivers, who are using older detectors, are not aware that they are driving around with a false sense of security because they don't receive signals from the latest threats," said Coomer.
ESCORT's "Cash for Clunkers" Trade-In program applies to any brand detector when purchased directly from ESCORT.
ESCORT "Cash for Clunkers" Trade-In program -- just makes good sense
Like other consumer electronics, law enforcement radar and laser guns have changed dramatically over time. And because those changes alter the guns' characteristics, older detectors cannot detect them and therefore won't alert. ESCORT continues to drive innovation by developing new technologies and incorporating them into their products to meet these challenges.
ESCORT--owner of more than 85% of all radar detector patents
ESCORT Inc. is the undisputed leader in designing and adopting new innovations and patented radar detector technologies. ESCORT has an industry winning radar detector designed to meet all of the latest threats. For example, ESCORT developed the world's first internet ready, GPS based radar detectors--the PASSPORT 9500ix windshield mount model and the PASSPORT 9500ci custom-installed version. Both models established a new technology standard by introducing patented features including AutoLearn™ artificial intelligence. AutoLearn™ uses GPS technology to automatically eliminate false alerts by indexing their exact location and frequency.
Both the PASSPORT 9500ix and the 9500ci radar detectors are designed to alert to red light and fixed position speed cameras. "The majority of radar detectors being used can't alert to the fastest growing threat drivers face today -- the rapid increase in the number of red light and fixed position speed cameras being installed all across North America!" said Coomer. Both detectors meet this ever-increasing risk by incorporating the ESCORT Defender™ database, which identifies these threats well in advance. In addition, the Defender™ database includes the top speed traps throughout North America. The Defender™ database can be easily updated through the ESCORT website.
Redline™--the longest radar detector range on the planet
Always innovating, ESCORT has just released the all new RedLine™ radar and laser detector. For ultimate long range sensitivity, RedLine's™ test-shattering performance represents another leap forward in detector technology for the industry. The sensitivity of the new RedLine™ can be attributed to its unique "twin turbo" receiver design which incorporates a patented twin antennae system and dual LNA's (low noise amplifiers). This technique allows RedLine™ to provide unprecedented range and performance by band, which provides the earliest warning possible. RedLine™ is the new long range champion. RedLine™ begins shipping in mid-September.
Full details for the direct sales only ESCORT radar detector "Cash for Clunkers" Trade-In program and all of ESCORT's performance leading radar detectors and complete line of other products can be seen at Escortinc.com or call direct at 800.433.3487.
About ESCORT, Inc.
ESCORT Inc. is the leading manufacturer of high-performance radar and laser detectors. ESCORT has developed and owns more than 85% of radar detector patents in use today and manufactures products under the ESCORT, PASSPORT, SOLO, Vector and BELTRONICS brands. The company is headquartered in West Chester, Ohio with its principal manufacturing facility located in Mississauga, Ontario, Canada.
Editorial Contact:
Ron Gividen
513.870.8500
###