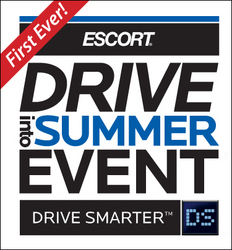 "Like other national events where we work with drivers, at the national Wicked Big Meet we want to help Subaru enthusiasts learn about advanced driving solutions," said Ron Gividen, ESCORT's Media/Marketing Manager.
West Chester, OH (PRWEB) June 10, 2010
ESCORT Radar, maker of the world's best automotive driving accessories and radar and laser detectors, will be presenting its latest Drive Smarter products at the nation's largest Subaru car enthusiasts show, the Wicked Big Meet in Princeton, Massachusetts, June 13. At the show ESCORT will be discussing how their award winning Passport 9500ix GPS-enabled windshield mount and the Passport 9500ci Custom Installed GPS-enabled radar and laser detectors can help Subaru enthusiasts Drive Smarter. "Like other national events where we work with drivers, at the national Wicked Big Meet we want to help Subaru enthusiasts learn about advanced driving solutions," said Ron Gividen, ESCORT's Media/Marketing Manager. "Drivers in general and driving enthusiasts in particular, understand that the number of tickets being issued is increasing. We're here to show automotive enthusiasts products that help protect them from being targeted and ticketed."
ESCORT points to the increasing national and local independent news stories discussing the use of ticketing as a means generating needed revenue to avoid budget deficits. And drivers know firsthand about the increasing need to be aware of the pressing threat of being ticketed. At the national Subaru Wicked Big Meet, ESCORT will be demonstrating new driving products that work to help drivers avoid targeting traps.
Drive Into Summer
In addition to tradeshow support, ESCORT recently introduced its first-ever "Drive Into Summer Event" which is being campaigned at all sales levels including national, regional and local outlets. "Our goal with the Drive Into Summer event is to educate consumers and enthusiasts to Drive Smarter during their summer road trips," said Dave Smidebush, ESCORT's Vice-president of Marketing. "By raising awareness of our industry leading products, we plan on expanding our ESCORT family of protected consumers," he added.
During the Drive Into Summer Event, ESCORT and participating retailers will offer for the first time ever, a free accessory package consisting of ESCORT's new amazing SuperCup windshield mount and a newly designed accessory SmartCord (combination straight and coiled cord), a $50 retail value. ESCORT has also indicated that it will continue to offer the very popular Test Drive program where customers can test drive new ESCORT radar detectors for up to 30 days risk free. And another first—ESCORT will run its detector trade-in program along with the Drive into Summer promotion.
The World's First Internet Ready, GPSbased Radar Detectors
And ESCORT will be encouraging drivers to Drive Smarter with their award winning GPS based radar detectors—the PASSPORT 9500ix windshield mount model and the PASSPORT 9500ci custom-installed version. Both models establish a new technology standard by introducing patented features including AutoLearn™ artificial intelligence. AutoLearn™ uses GPS technology to automatically eliminate false alerts by indexing their exact location and frequency. "This artificial intelligence makes the PASSPORT 9500 series radar detectors the most accurate and intelligent detectors on the road. You drive, they learn. —end of story," said Tim Coomer, ESCORT's Vice-President of Product Development.
Both the PASSPORT 9500ix and the 9500ci radar detectors address the single fastest growing threat drivers face today—the increasing numbers of fixed position speed and red light cameras. Both detectors meet this ever-increasing risk by incorporating the ESCORT Defender™ database, which identifies these threats well in advance. In addition, the Defender™ database includes the top speed traps throughout North America. "The Defender™ database can be easily updated through the detector's USB-internet ready connector," added Coomer.
In addition to its class-leading performance against radar and laser guns, the 9500ix and the 9500ci also feature variable speed sensitivity, which regulates both model detectors' sensitivity based on the speed of the vehicle. This level of intelligence provides maximum performance when you need it most, and reduces unneeded alerts when the driver is not at risk.
The 9500ci includes ESCORT's patented Laser Shifting technology and the 9500ix is compatible with ESCORT's accessory Laser Shifter ZR4—ESCORT's Laser Shifting systems provide drivers with the ultimate laser protection.
For more information on the Passport 9500ix GPS-enabled windshield mount or the Passport 9500ci Custom Installed radar and laser detectors, or information on the Drive Into Summer Event, call the ESCORT Experts at 1.800.433.3487 or visit EscortInc.com.
About ESCORT, Inc.
ESCORT Inc. is the leading manufacturer of high-performance radar and laser detectors, Entourage GPS enabled navigation and tracking products and other Drive Smarter products. ESCORT manufactures products under the ESCORT, PASSPORT, REDLINE, SOLO, Vector and BELTRONICS brands. The company is headquartered in West Chester, Ohio with its principal manufacturing facility located in Mississauga, Ontario, Canada.
Editorial Contact:
Ron Gividen
513.870.8500
press(at)escortradar(dot)com
###