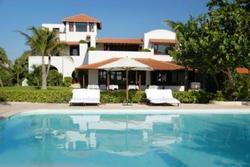 Beaumont, TX (PRWEB) October 29, 2008
Playa Xpu-Ha, Mexico (PRWEB) October 29, 2008 -- In celebration of a new year, Italy's Duchess d'Ferrari invites guests to a complimentary night when staying five nights at the exclusive Esencia estate in the Riviera Maya. Representing a 20% savings, the "Guest of the Duchess" winter promotion is available for guests who book by December 20, 2008 to travel from January 6 through April 30, 2009.
As a guest of the Duchess this winter , travelers can dine in the main dining room, relish the pristine surroundings on the veranda, enjoy butler service at the beach, experience pure relaxation during body treatments at the Duchess's organic oasis, Aroma Spa, and more.
Esencia's mansion, the centerpiece of the 50-acre estate, was originally built for the Italian duchess, a current owner, as her private beach home. In 2003, ProHotels transformed Esencia into a guest estate with the addition of suites and cottages amidst gardens and along two miles of white sand beach.
Guest suites start at $605 per night. Two-story cottages are $1,729 per night and may be enjoyed as a private beach house staffed by Esencia's butlers, housekeepers and chefs. Taxes and service charge are additional.
Please call 877-528-3490 or visit http://www.hotelesencia.com for reservations.
About Esencia Estate
The 50-acre private estate, located on Playa Xpu-Ha 46 miles south of Cancun, is the essence of simplicity, elegance and beauty. Its 29 spacious suites and cottages include a range of features from private gardens to solariums and deep-soaking plunge pools. The estate is operated by ProHotel International of Houston, which also operates the celebrated La Pleta by Rafael Hotels in the Spanish Pyrenees and Casanova by Rafael Hotels in Barcelona, Spain.
The Dining Room
The dinner menu specializes in Meso-American cuisine, using traditional Yucatecan methods such as banana-wrapped fish and meat cooked in a pib (an earth oven). The menu showcases the freshest local seafood as well as dishes from the rest of Mexico, all flavored with organic herbs and fresh fruits and vegetables. The ambiance combines Mexican flair and rustic simplicity, with its palapa roof and view of a cenote, an illuminated underground fresh water pool.
Aroma Spa
Fully organic from its architecture to its products, the Duchess's oasis harvests its own lush herb garden for use in treatments. Five treatment rooms, four Jacuzzis, two Mayan-style domed steam rooms and a beachside Temazcal Mayan Sauna are also available. Complimentary group yoga and meditation classes are offered with an instructor in the main house terrace or garden area.
# # #