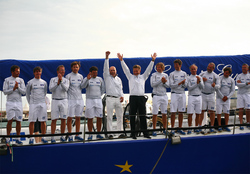 30 meter giant yacht greeted its 25 member all star crew.The fastest project with powerful online movement presented in Cannes
Cannes (PRWEB) June 11, 2010
The Esimit Europa 2 yacht (http://www.esimit.com) has been introduced to the global audience at its christening ceremony, which was attended by major business leaders and project supporters. The 30-meter long and 44-meter high giant is the fastest yacht in the world. Under the patronage of Jose Manuel Barroso, the President of the European Commission, the yacht is building upon its 15-year tradition of connecting European nations.
Speaking at the launch ceremony, Gazprom CEO Alexei Miller explicitly noted that "the mere fact of the multilingual and multicultural crew, an ensemble of individualities, brought together on board the yacht, is the embodiment of the diversity and unity of Europe from the Atlantic to the Ural Mountains."
Slovenian Igor Simcic, the yacht's owner and Esimit Europa project General Manager, outlined the team's goals, which will compete in the 5 most prestigious European regattas as an ambassador of the European Energy movement (http://www.european-energy.org).
The crew, which includes many Olympic athletes and European and World champions, will man one of world's most advanced yachts, whose hull is entirely made from carbon-fiber. The plan is to achieve an overall victory in the following regattas: Giraglia, Palermo–Monte Carlo, Maxi Yacht Rolex Cup, Barcolana and Middle Sea Race.
"We at Gazpom fully endorse the philosophy of unity and strongly believe that business success can be built only on the foundation of mutual understanding," pinpointed Alexei Miller. "We assumed the role of the major sponsor of the Esimit Europa 2 project because it is a symbol of border barriers transparency and uniting European nations."
"I am honored that the idea is supported by a company as reputable as Gazprom, one of the largest energy companies in the world. I am sure that through closer relationships between EU countries and Russia, this continent would represent an important global force that would lead in technology and development, creating a better and brighter future to its residents," added Simcic.
Esimit Europa 2 yacht also launched as an ambassador of the European Energy online movement, a Facebook application for environmentally aware individuals, who use the social network to change consumer habits. The application is also connecting people, who want to act to make our planet cleaner.
Please visit the online Esimit Europa Press Center, where you can access current information and view and download related images and videos.
Additional information:
Esimit Europa:
Gorazd Mauri, Public Relations Manager
Address: Stara cesta 23, 1360 Vrhnika, Slovenia
Telephone: +386 1 750 21 32
Mobile: +386 41 876 427
WWW: http://www.esimit.com
###