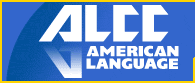 These new courses are filling the need for specialized instruction.
New York, NY (PRWEB) April 30, 2013
American Language Communication Center (ALCC) has added six new English as a Second Language (ESL) courses to its catalogue. The new electives aim to improve students' written and oral communication skills in English. Each course has a specific theme that takes a hands-on approach, giving ESL students the skills they need to learn English. ALCC American Language students have the opportunity to take charge of their lives by learning English in a comprehensive way that will lead to confidence and a renewed vigor to keep improving communication skills.
The new electives are now available to ALCC students in different levels and schedules. Taken in conjunction with the ALCC's Master Speaking Program, the new electives target skill areas that will aid in students' English language acquisition. Each course aims to perfect and enhance students' core skills such as English speaking and writing, critical thinking, and business writing techniques.
"These new courses are filling the need for specialized instruction," says Peter Pachter of American Language Communication Center. "We saw that our students wanted elective courses that addressed specific concerns they were having during their language acquisition processes, and we set out to help them address those important issues."
Many of the new ESL courses deal with basic communication skills that are essential to living in an English-speaking society. For example, the Communication Skills course strives to improve a student's ability to use the English language in daily life. The Writing elective involves intensive instruction aimed at strengthening the student's written English in a brief time frame by targeting specific elements. The Accent Reduction course will help students develop a sense of confidence for daily living in America by improving their pronunciation.
These electives will allow ALCC students an opportunity to improve their communication skills within the context of the business world and everyday life. The "Business English" class targets ESL students who are aspiring business leaders, honing their English skills while teaching effective ways of communicating and interacting within a business setting. The new "Current Events" elective seeks to strengthen international students' awareness of American society by incorporating print and digital media into the classroom setting. Students read things like blogs and newspaper articles in order to enhance critical thinking skills. In the "American Literature" course, students will read critical essays, short stories, and works of poetry by American authors.
The Master Speaking Program that the new electives are to be taken with is an eight-level ESL program developed at ALCC American Language. Students can take classes during the week or on weekends. For more information about these or other ESL courses, contact American Language Communication Center at 212-736-2373, go to http://www.learnenglish.com, or visit at 229 W 36th Street, New York, NY 10018-7529.
About American Language Communication Center
American Language Communication Center offers affordable ESL courses for students who wish to improve their English language skills. ALCC gives local and international students a positive atmosphere that helps bolster proper communication and learning between peers and instructors.