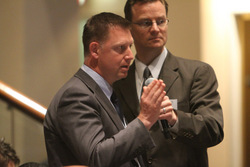 Education Week Leadership Forums are designed to be participatory and dynamic and driven by the experiences of expert panelists and attendees alike
Provo, Utah (Vocus) May 7, 2010
The Utah-based educational software company Imagine Learning, Inc. sponsored Education Week's April 19th Leadership Forum in Washington, DC.
Imagine Learning's participation in the forum Making Data Matter: Tools to Accelerate Achievement helped support and inform conversations on educational data use.
The event gathered education leaders from across the country and Education Week polls reported high attendee satisfaction.
"Ninety-seven percent of attendees reported that the Education Week Leadership Forum provided them with new ideas, strategies, and tactics to bring back to their districts, so Imagine Learning's sponsorship can truly be said to have helped 'make data matter' for students across this country," said Michele Givens, the publisher of Education Week.
The Washington, D.C. forums combined three keynote speeches from government and university opinion leaders with various forum and roundtable discussions. The discussions were moderated by Education Week reporters and editors. Imagine Learning Executive Derrin Hill also lead an interactive, lunchtime roundtable discussion.
"Education Week Leadership Forums are designed to be participatory and dynamic and driven by the experiences of expert panelists and attendees alike," said Virginia B. Edwards, the editor-in-chief of Education Week and the president of Editorial Projects in Education.
Keynote speakers included senior U.S. Department of Education official Brad Jupp, Chancellor of New York City Department of Education Joel Klein, and President of Global Partnership Schools Rudy Crew.
To learn more about Imagine Learning and "Imagine Learning English," visit http://www.imaginelearning.com.
About Imagine Learning, Inc.
Imagine Learning, Inc., is the award-winning language and literacy solution, providing educational software to more than 100,000 students in schools across the United States and around the world. Students receive one-on-one instruction through hundreds of engaging activities specifically designed to meet their individual needs and provide real results.
###