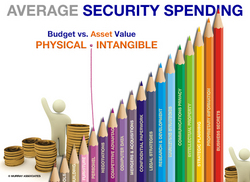 Spying can quickly syphon off a organization's life blood, and the lack of an effective counterespionage strategy can be considered negligence.
Oldwick, NJ (PRWEB) October 1, 2009
Murray Associates, counterespionage strategists for business and government, identified two serious flaws found in many corporate security plans: no counterespionage strategy combined with a misalignment of spending priorities. Their new CLEAR program rectifies these two costly oversights easily; often at no additional cost to their clients.
If the value of a business is mainly in its intangible assets, why do its physical assets receive the bulk of the security budget? Good question. Murray Associates studied the problem.
People place a heavy emphasis on protecting things they can see. It is a natural tendency. It is also faulty logic. Guards and cameras are outrageously expensive when compared to the value of what they protect, and how well they protect them. Intangible asset protection - using a counterespionage strategy - turns out to be a very effective bargain by comparison. In fact, it can increase profits.
Kevin D. Murray, a Certified Protection Professional and the firm's Director explains... "Spying can quickly syphon off a organization's life blood, and the lack of an effective counterespionage strategy can be considered negligence."
Executives have a fiduciary responsibility to protect intellectual property for stockholders. An added peril is that many businesses must demonstrate compliance with privacy and information security laws. A professionally planned and documented counterespionage strategy is a good defense in both cases.
Defending lawsuits and paying fines are, of course, costly. Loosing a business negotiation or a competitive advantage due to eavesdropping, wiretapping or other form of electronic surveillance can be crippling. Murray feels, "Every business needs a counterespionage strategy. It's not an option."
Last month, the Murray Espionage Research Team solved an eavesdropping mystery for a new client. Information from their private meetings and presentations was leaking. Advanced Technical Surveillance Counter-Measures (TSCM, or bug sweep) revealed transmissions from their (very sensitive) presenter's microphones could be intercepted up to a quarter mile away from their war room. TSCM alone, however, was not enough to stop the other ways information was leaking out. Murray's full counterespionage strategy uncovered two more non-electronic leaks. Unchecked, their IPO might have been delayed or derailed, and they could have faced regulatory fines.
Murray's unique counterespionage solutions are both elegant and cost-effective… "Align the security budget to where it does the most good." Use adjusted monies to fund the counterespionage strategy. Profitability should naturally increase.
Murray sums it up, "For the cost of your least productive security guard, you can have an effective counterespionage strategy."
About Murray Associates:
Murray Associates specializes in counterespionage strategies for business, government and high-profile individuals. Headquartered in the New York metropolitan area, they cover the Americas, European Union and selected other countries. A global network of Associates, makes them the perfect choice for multinational corporations.
Contact:
Kevin D. Murray - CPP, CFE, BCFE
+1-908-832-7900
spybusters.com
Kevin's Security Scrapbook
###