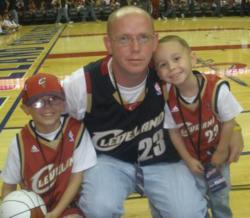 Joe Kijowski's community mentorship has successfully expanded one young boxer's view of what it means to be a success.
Youngstown Ohio (PRWEB) January 11, 2013
Although he would never say it about himself, when Joe Kijowski speaks, young men listen.
Kijowski, general manager of Mr Rooter Youngstown says, "Leadership and challenging yourself are two of the themes that pop up regularly when he has the opportunity to mentor young men from the community.
A family man, Kijowski, who has two sons of his own, is dedicated to family core values. "I enjoy serving as a steward, investing in another man's dream."
"There is great reward when you witness a young man learn that life is about winning and losing," says Kijowski, who stays busy volunteering and managing the most referred plumbing and drain service company in the northeast Ohio region. Mr Rooter Plumbing, centrally located in the greater Pittsburgh area, serves over 2.5 million customers that includes all of the southwestern Pennsylvania territory, as well.
Kijowski will watch eagerly with millions of ESPN Friday Night Fights fans as one of his champions take to the ring in what will mark a new chapter in the careers of both John Molina and Dannie Williams. Williams, who spent many hours at the Southside Boxing Club in Youngstown, anticipating his dream, was mentored and inspired by Kijowski.
"He will be under the sort of pressure to win on Friday that he has never experienced before," says Kijowski. The Youngstown plumbing and drain services company is sponsoring "Dangerous Dannie Williams" in this week's main event of "Friday Night Fights" (ESPN2/WatchESPN, 9 ET) from Indian School in Santa Fe, N.M. "We will be rooting for Williams all the way. My two boys, Christian and Carter are really pumped up for this event."
"Williams' trainer, (and owner of Southside Boxing Club), Jack Loew, says this fight could be the only chance for Williams to earn a title shot.
"He knows he'll be fighting under pressure," Loew said. "That's why he'll be aggressive from the very start."
"I will show everyone that my defeat against "Hammering" Hank Lundy was just a bad moment for me," Williams said.
In the opposite corner, Molina will be held to a similar standard before getting a chance to challenge for a title again. Returning to headline another nationally televised card, Molina will be expected to demonstrate that the DeMarco defeat, (Molina's loss in his most recent fight was even more devastating, as he was knocked out in 44 seconds in the first round of a September title shot against Antonio DeMarco), was merely a bump in the road. In his favor: On his résumé, Molina has a knockout win over Lundy, the last man to beat Williams.
What sort of fight can we expect? Molina likely will try to set the tempo, standing at the center of the ring and seeking to put pressure on and hurt his opponent early. Williams, despite Loew's assertion, figures to be cautious at the start. He will work light on his feet in the early rounds, throwing punches only when it's safe and waiting for the right moment to launch his combinations. In fact, Williams may try to really drag things out in an effort to maximize his counterpunching tactics. In any case, count on an even fight."
See original story at ESPN.com
Kijowski fits well in the Mr Rooter family; well known in the Youngstown area for sharing his time, talents and gentleman spirit. In addition to providing some guidance for navigating through life as a man, Kijowski's mentorship has successfully expanded one young boxer's view of what it means to be a success.
"Every man has had different life experiences and been exposed to different philosophies and worldviews," says Kijowski. "They've been brought to their knees by different trials, been carried away in different joys, and have learned unique bits of wisdom." According to the champion plumbing specialist, Kijowski's reward through participating in mentoring has helped him see things a different way, inspired him to dare greatly, comforted him when he grieved, and helped him become a better man.
Mr Rooter currently serves seven major Southwest PA counties: Allegheny, Armstrong, Beaver, Butler, Fayette, Sharon, Mercer, Washington, and Westmoreland. Mr Rooter Youngstown serves three major Northeast OH counties: Columbiana, Mahoning and Trumbull. Mr Rooter is planning a Grand Opening event on March 1, 2013 which will add residential and commercial plumbing services to Dayton Ohio and surrounding communities.
There's A Reason They Call Us Mr.™
Debra Santavicca PR, SMM, WebIT
Mr. Rooter Media Center
724-553-9510
http://www.rooter2.com