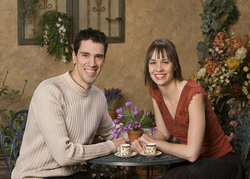 If taken, the free advice we're offering our new subscribers can save them hundreds of dollars simply by avoiding critical yet common coffee and espresso machine mistakes
San Francisco, CA (PRWEB) March 23, 2009 -
To celebrate the official launch of their new website, The Coffee Couple is offering limited-time downloadable free advice on brewing better-tasting coffee and espresso. Aimed at everyone who loves a great cup of coffee or espresso, this free audio report plus transcript are The Coffee Couple's way of welcoming new subscribers to their information-packed newsletter.
Contrary to what most people think, it's not necessary to be a professionally trained barista to make great-tasting specialty coffee and espresso drinks. Anyone can do it. The secret lies in knowing how to operate an espresso machine like a professional. This special audio report explains the 7 common mistakes espresso machine users make and how to avoid them. The report progresses at a comfortable pace and includes a transcribed file for easy reference.
"If taken, the free advice we're offering our new subscribers can save them hundreds of dollars simply by avoiding critical yet common coffee and espresso machine mistakes," explains Andreanne, one-half of The Coffee Couple. "Plus, by signing up for our newsletter, subscribers will continue to receive timely coffee and espresso related news, coffee and espresso machine reviews, and special offers each month, saving them even more money while enhancing their coffee and espresso brewing and sipping experiences."
Gone are the days of waiting in long lines and spending $3 to $5 or more every day on fancy-sounding coffee, tea, espresso, and cappuccino drinks at those specialty coffee shops. The current economic climate has created a surge in gourmet coffee and espresso machine purchases for at-home use and for use by business owners looking to expand their offerings. Unfortunately, the romance with these new machines often wears off quickly because users aren't familiar with the inner workings of these machines that seem complex but in fact are really very easy to use.
To learn how easy it is make the perfect cup of your favorite coffee shop beverage, right in the comfort of your home or office, visit The Coffee Couple's espresso machine website now. Once there, be sure to sign up to receive the couple's instantly downloadable, information-packed special report titled: 7 Critical Mistakes YOU Want to Avoid with your Espresso Machine.
About The Coffee Couple:
Luc and Andreanne are the experts that make up The Coffee Couple. Always in search of ways to reap more great taste from the variety of coffee and espresso machines offered on their website, The Coffee Couple's goal is to share their vast knowledge with the rest of the world. Visit http://www.TheCoffeeCouple.com regularly for invaluable tips, tricks, informative articles and videos, special reports, and special offers on everything related to coffee and espresso.
###