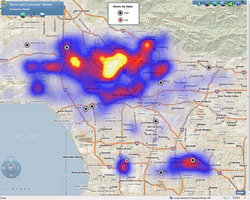 Using MapIt and Microsoft technology, we reduced our development costs and delivered a new product in record time
Redlands, CA (PRWEB) July 13, 2009
Businesses have an exciting new tool to gain insight into their business operations with ESRI MapIt. A new software product from ESRI, the market leader in geographic information systems (GIS), MapIt combines software with services to enable businesses to create maps displaying their enterprise data. MapIt software transforms the static spreadsheet and tabular data that managers typically view into dynamic information displayed on vibrant maps.
MapIt is designed to work on the Microsoft application platform, which enables organizations to create visually rich mapping applications using the skills and infrastructure they already possess. It includes all components needed to quickly begin mapping enterprise data from Microsoft SQL Server 2008 and Microsoft Office Excel. Maps can be displayed in rich, interactive applications using Microsoft Silverlight or Windows Presentation Foundation (WPF) or in Microsoft SharePoint Server 2007.
Since MapIt is developed by ESRI, users have access to a wealth of online services to extend and enhance their maps. These services encompass street and imagery basemaps from Bing Maps for Enterprise and ArcGIS Online; geocoding and optimized routing services; demographic and customer segmentation data; and much more.
"MapIt is the result of a close collaboration with Microsoft," says Jack Dangermond, ESRI president. "It is a new mapping product for business intelligence that fits well with the IT infrastructure. We believe it will change the analytic environment for enterprise data by adding a spatial dimension in a highly visual framework."
Organizations using MapIt can answer questions about their data to improve their business decisions, such as, Where are my most profitable customers located? and How can my salespeople maximize their efforts while in a targeted region? These are questions that can be quickly answered when analyzing the information on a map. The MapIt built-in geocoder transforms addresses, ZIP Codes, provinces, and any other information that refers to a place into geographic coordinates.
Microsoft business partners, like E•SPONDER, LLC, are already adopting and developing solutions with MapIt. E•SPONDER is a market leader in creating software solutions for managing emergency situations and is using MapIt to dynamically display this critical information on a map for its customers. "Using MapIt and Microsoft technology, we reduced our development costs and delivered a new product in record time," says Mark Seward, vice president of software development, E•SPONDER.
ESRI and Microsoft presented MapIt during the keynote at the Microsoft Worldwide Partner Conference in New Orleans, Louisiana. In addition, E•SPONDER will be presenting its solution built using MapIt in another keynote on Wednesday, July 15, 2009.
MapIt is now available for purchase. An evaluation version is also available as a free download. For more information or to evaluate MapIt, visit http://www.esri.com/mapit.
About ESRI:
Since 1969, ESRI has been giving customers around the world the power to think and plan geographically. The market leader in GIS, ESRI software is used in more than 300,000 organizations worldwide including each of the 200 largest cities in the United States, most national governments, more than two-thirds of Fortune 500 companies, and more than 7,000 colleges and universities. ESRI applications, running on more than one million desktops and thousands of Web and enterprise servers, provide the backbone for the world's mapping and spatial analysis. ESRI is the only vendor that provides complete technical solutions for desktop, mobile, server, and Internet platforms. Visit us at http://www.esri.com.
ESRI, the ESRI globe logo, GIS by ESRI, ArcGIS, MapIt, http://www.esri.com, and @esri.com are trademarks, registered trademarks, or service marks of ESRI in the United States, the European Community, or certain other jurisdictions. Other companies and products mentioned herein may be trademarks or registered trademarks of their respective trademark owners.
###