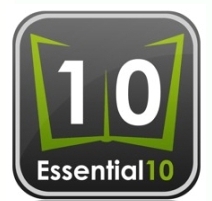 What is needed in today's busy world is a quality, reader-reviewed source for essential information that is always current and readable on the device of my choice—for a low cost."
Arvada, CO (PRWEB) January 4, 2010
Essential10 Ltd announces the official launch of a new digital-only publishing company. Essential10 offers authors significantly lower price points than other online publishers, starting at only $49 to be published on multiple devices such as Kindle and iPhone.
Essential10's publishing strategy is to concentrate on short, pointed books that focus on the essentials of any topic under the sun, from how to get hired by Homeland Security to how to survive a zombie attack. Categories range from business, health, self-help, high tech, to humor. Essential10's product line will be as diverse as the authors who write them.
Since our books are meant to be concise and highly targeted, pricing will reflect this and most books will range from $0.99 to $9.99. Initially, they will be sold on Amazon Kindle®, Apple iPhone®, and in Essential10's own eBook Bookstore.
"As authors ourselves, Essential10 founders are excited to provide a very low cost, fast method for existing and new authors to get published," said Essential10 CEO Mike Neal. "Unpublished authors can finally get their work out, businesses and professionals can publish on their area of expertise, published authors can write new material and be published almost immediately or create works that promote or focus on a single aspect of a larger work. In addition, we hope that traditional publishers will come on board and encourage their authors to write Essential10 books as part of their overall marketing strategy. We envision Essential10 as the YouTube for books. We are also proud to offer high royalties to our authors."
Essential10 is creating a community of authors, readers, and service providers such as editors, copy editors, ghostwriters, and illustrators. "Our community forums provide a unique place for readers and authors to connect directly to talk about book projects—readers can even request the book they most want to read," said Susan Piver, New York Times Bestselling Author and Essential10 Chief Creative Officer. "One of the beautiful things about Essential10 is that the playing field is wide open—anyone can publish a book and readers themselves will judge the quality, not an editorial board. Essential10 is right on trend by disintermediating whatever stands between writers and readers. And since all our books are digital-only, authors can always update their manuscript to reflect reader input or include their latest insights. It's an author's dream."
Essential10 has defined a new style of book altogether, one that exploits the concept of information chunking that traditional publishers are just beginning to examine. CEO Mike Neal observes, "What is needed in today's busy world is a quality, reader-reviewed source for essential information that is always current and readable on the device of my choice—for a low cost." The company says that eventually it will also publish longer works, including fiction and full-length books.
Essential10 supports eBook pdf in their own bookstore, iPhone personalized applications, and Amazon Kindle. They will publish to the Sony Reader and Barnes and Noble Nook later in 2010.
About Essential10
Essential10® is a digital media company that redefines the author-reader relationship by making it easy to publish succinct, interactive books for busy readers on popular electronic readers including Amazon Kindle, eBook (pdf), and iPhone. Essential10 defines a new kind of book, one that allows readers to immediately obtain specific, expert information at a low price. Essential10 is pioneering the concept of LiveTitle™ where authors can update and republish their book as often as they like. Essential10 is the first company to combine a low cost publishing solution in multiple formats with a new book concept, defined for today's readers. Visit us at http://www.essential10.com
Essential10 Team Members Quoted in this Release
Mike Neal, Founder and CEO
Mike Neal earned a degree in computer science and spent the first fifteen years of his career developing interactive computer graphics applications. In the mid-1990s, he starting working on Internet technologies and has earned multiple patents in search technologies. For the past 10 years, Mike has held executive level positions in both early stage and public companies. Mike has also served on several non-profit boards of directors.
Mike has written and self-published five books. His first book was Interactive Novel and describes the fictitious life of a budding entrepreneur fighting to make his dream of a publishing company come alive. He has co-authored a golf humor book entitled The Book of Mulligan, which many think is a reflection of his humorous golf game. Finally, Mike has written three books in a children's series called Courageous Critters® featuring Rocky Mountain wild animals.
Susan Piver, Chief Creative Officer
Susan Piver is a New York Times bestselling author and the founder of Padma Media, a publishing company that creates special book packages to support health and wellbeing. Padma Media is a book packaging company that pioneered special book packages for bestselling authors, including Andrew Weil M.D., Rodney Yee, Brooke Siler, Mark Hyman, M.D. and others. Her products have been published by St. Martin's Press, Sounds True, Red Wheel/Weiser, and One Spirit, Book of the Month Club.
She is the author of numerous books, including the bestselling The Hard Questions: 100 Essential Questions to Ask Before You Say "I Do, and How Not to Be Afraid of Your Own Life which was chosen as Best Spiritual Book of 2007 by Books for a Better Life.
In addition, Piver spent over a decade in the music business, working at the executive level in sales, marketing, and product development.
###