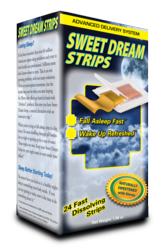 Just place a strip on your tongue, allow it to dissolve, and fall asleep. It's that simple
Phoenix, AZ (PRWEB) June 25, 2013
According to the Centers for Disease Control (CDC), an estimated 50-70 million U.S. adults have sleep or wakefulness disorder, such as insomnia. Persons experiencing sleep insufficiency are also more likely to suffer from chronic diseases such as hypertension, diabetes, depression, and obesity, as well as from cancer, increased mortality, and reduced quality of life and productivity.
Sweet Dream Strips™ is a natural sleep aid containing Piper Methysticum for relaxation, Huperzine for mental clarity and focus, and Melatonin to aid the natural sleep hormone. Dissolvable strip technology is a new concept to the dietary supplement industry. The strip is designed to dissolve on the tongue without water, allowing consumers fall asleep faster than with capsules or tablets. Being natural, Sweet Dream Strips are non-addictive and non-habit, forming unlike many prescription alternatives.
Essential Source® Vice President, Justin Zehrung, stated, "Our rapid dissolving strips allow consumers to keep them on their night stand and use at the first sign of sleeplessness. No need to get out of bed for a glass of water to take a pill. Just place a strip on your tongue, allow it to dissolve, and fall asleep. It's that simple."
Essential Source® is the maker of specialized health and beauty products, dedicated to the research and development of convenient supplement delivery methods, while increasing the overall effectiveness of nutritional supplements as a whole. For more information, visit http://www.EssentialSource.net or contact Justin Zehrung at (877)879-9966.