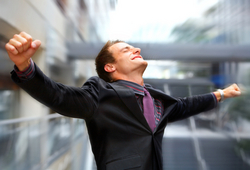 If you want better outcomes there needs to be a better quality of thinking
(PRWeb UK) February 8, 2011
As austerity takes its toll, many organisations are faced with fewer staff, each with an increased workload. But with such a negative impact, how do employers begin to keep their team motivated?
Gina Gardiner, a highly regarded motivational speaker, trainer and executive coach, believes the answer is in the power of our thought process. "If you want better outcomes there needs to be a better quality of thinking," said Gina. "Perspective, motive, emotional intelligence, choice and responsibility are all major elements within our thinking – getting to grips with this is a smart business decision, one which has proved to create a more positive and proactive workplace."
The concept of positive psychology goes as far back as the origins of Western philosophy, with the likes of Socrates supporting self-knowledge as the path to happiness, followed by years of well formulated and documented scientific research.
"Staff training is often centred on work processes, goals and targets – but addressing attitude, emotional state and the interpersonal relationships within the team is equally important, if not more so, if you want your staff to be more receptive, productive and creative," explained Gina. "It gives them greater access to their own resources, including self-belief, productivity, motivation and fulfilment to name a few. Positive psychology is what gives organisations the positive advantage."
'The Positive Advantage' is Gina's current course designed to help leaders and managers develop an understanding of the tools of positive psychology and give them the confidence to apply them in the workplace. Sessions can take place onsite or at Essex Business School's Business and Management Training Centre.
For more information on Gina's courses, call 01206 230 497, email gina(at)ginagardiner(dot)com or visit http://www.ginagardiner.com
###