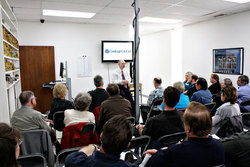 The Five Reasons for Financial Distress in a Jewelry Store
Saint Paul, MN (Vocus) April 7, 2010
On April 5, Esslinger and Company presented its 2010 Workshop for jewelers at its headquarters in St. Paul, MN. Jewelers from around the country gathered for a day of learning about the latest in jewelry supplies, jewelry repair tools, and other jewelers' tools. Attendees also benefited from two in-depth workshops by special guest David Geller, totaling over six hours of practical advice on how jewelers can become more profitable in 2010.
Geller is the author of the internationally used Geller's Blue Book on bench work pricing and is also a nationally known financial management expert who specializes in assisting independent jewelers.
In "Making Money at the Bench," concerning the power of repairs to build business during a financial downturn, he said:

Repairs are trust-sensitive, unlike selling jewelry, which is price-sensitive. Thus, when times are tough, if a jeweler has the trust of his or her local community, the repair work will keep coming in, driving traffic and enhancing trust. It can also trigger the sale of inventory, then or later. Repairs keep your company top-of-mind with customers even when they're not in the market for new jewelry.
Jewelers can complete a repair sale far more often than a jewelry sale. Geller says that in his work with jewelers, most tell him that nine out of ten customers who come in to have jewelry repaired agree to the work. Not so with sales of inventory, where only three out of six customers are converted to purchasers.
Raising prices on repairs is easier than jewelers think. Many jewelers price their repair jobs too low. They don't take into account the shop's overhead costs, such as the cost of replenishing jewelry supplies and jewelry repair tools or they underestimate how long a repair takes. Though the owner may fear customers will balk at raised rates, Geller says not to worry. The same nine out of 10 people mentioned above will still leave their items—whether they've complained or not.
In his afternoon seminar, Geller turned to general financial management. In "The Five Reasons for Financial Distress in a Jewelry Store," he showed jewelers how to tackle each one. The first involved not charging enough for labor in bench repairs, as detailed above. The other four were:

Having more inventory than a jeweler can sell in a calendar year.
Having inventory at the wrong price points.
Not having enough customers coming through the door, which usually indicates ineffective marketing.
Sales associates not completing enough sales.
Geller walked jewelers through an easy-to-understand primer on understanding profitability in a business, including issues such as inventory management, GMROI, the use of QuickBooks, and digesting the numbers that better financial accounting generates.
"The large retail chains use more sophisticated versions of the financial management tools that David explained—but the principles are the same," says owner Bill Esslinger. "Attendees came away with a better understanding of how to have a profit and also make money. We're grateful for the time he shared with our customers."
Jewelers who attended the Esslinger 2010 Workshop also came away with a better knowledge of the vast array of jewelry supplies, jewelry repair tools, and other jewelers tools on the market today, which are available through Esslinger's website.
Esslinger & Company is a wholesale jewelry supply company with over 80 years in business. Our focus has been on helping independent retail jewelers succeed in business by providing helpful marketing materials, new jewelry concepts, jewelry tools, jewelry supplies, jewelry findings, diamonds and gemstones. Our well-trained customer service representatives know the details on our products and when you call, a live person answers the phone. Call us Monday through Friday from 8 am-5pm (Central Time) at 800-328-0205, or go to esslinger.com for 24/7 ordering, detailed product information and a comprehensive Learning Center.
# # #