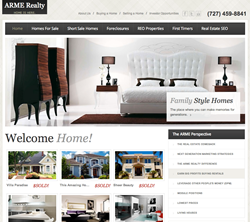 By creating this package we at ARME Realty feel that this offer will connect with the part of the market that is very unsure about the internet and getting their monies worth
Nationwide (PRWEB) June 29, 2013
ARME Realty, a Clearwater FL leader in Search Engine Optimization (SEO) technology for real estate professionals, today announced that they will be listing established real estate websites for sale. The idea is to sell realtors and or brokers websites that are already established. Meaning that the website has articles and links to pages and content, as well as a full front page design.
The site is simply transferred to the new owner. Further site development is always able to be continued and the customization of company name and information will be edited once the sale is complete.
For many real estate professionals the idea of building a website is impossible, and it is for this reason that they go to a company for help. The problem is that the little knowledge the realtor has leaves them vulnerable to not knowing what they are buying.
By purchasing an already established real estate website for sale the product is there. What you see is what you are buying. It is very much the same as purchasing a piece of online real estate, a much more suitable arena for a realtor.
So, you simply go through an inventory of already built websites and find the one that best fits your style. The value of the website you choose is based upon several factors, all of which are based upon the size of the website, the age of the website, the content within the site and its ranking.
If an agent decides that they are interested in purchasing a basic site package of an established real estate website for sale the package would consist of several items. An existing website with all of the front page already designed, the logo and location information of the business included, articles connecting to all of the front page links, as well as the addition of ARME Realty's latest web development toolkit.
"By creating this package we at ARME Realty feel that this offer will connect with the part of the market that is very unsure about the internet and getting their monies worth," says Simon Landers, spokesperson for ARME Realty.
"This is also a great product release for our company because it helps give a real estate customer a direction that they are going to go with for the development of their online presence," continues Mr. Landers.
If you are interested in purchasing an established website for sale from ARME Realty, or if you would just like to learn more about the services provided by ARME Realty please call (727) 459-8841 and speak with an agent.