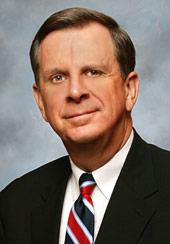 Aiken, SC (PRWEB) May 10, 2011
The University of South Carolina Aiken held its Academic Convocation on April 21st at the Etherredge Center in order recognize students and faculty, a Distinguished Citizen, faculty retirees, and to name the Outstanding Student of the Year. This year's Distinguished Citizen Award was presented to William H. Tucker, a senior partner in the Aiken office of Hull Barrett, PC. Mr. Tucker is completing his eighth year of service, including a two-year term as president, on the University of South Carolina Aiken Partnership Board.
In making the award, Chancellor Thomas L. Hallman stated "Support from the Aiken community is vital to the success of USCA. In appreciation…each year…the University honors a citizen who has a history of distinguished service to our campus and community. Mr. Tucker is the recipient of the 2011 Distinguished Citizen Award for his continuing support of the University of South Carolina Aiken, his outstanding service to the University and the Aiken community, and his deep concern for meeting the education needs of citizens of this area."
At Hull Barrett, Mr. Tucker practices in the areas of estate planning, probate administration, real estate, and small business transfers. He is admitted to state and federal courts in South Carolina and is listed in The Best Lawyers in America. His community involvement includes being a member and past president of the Rotary Club of Aiken, a Paul Harris Fellow of Rotary International, a member of the Aiken Businessmen's Club, a trustee of the Phelps Foundation and the Whitney Trust, and a director of the Community Foundation for the CSRA. He has previously served on the boards of the Aiken Red Cross, United Way, Tri-Development Center of Aiken County, and Junior Achievement. Mr. Tucker is a 1974 graduate of DePauw University in Indiana and a 1978 graduate of the University of South Carolina School of Law. Upon his graduation from law school and admission to the South Carolina Bar, he began his practice of law in Aiken as an assistant solicitor for the Second Judicial Circuit and, in 1980, joined the law firm of Henderson & Salley, which in 1999 merged with the Hull Towill firm in Augusta to become Hull Barrett, PC.
About Hull Barrett, PC:
Hull Barrett, PC is a full service law firm with 29 attorneys firm wide. The firm is engaged in a general civil practice providing a broad range of legal services with an emphasis on general litigation, trials and appeals; securities and corporate law; mergers, acquisitions and public offerings; local government law and eminent domain actions; health care; computer and technology law; internet ventures; trademark and copyright law; taxation; public finance; commercial real estate; construction law and disputes; employment law; banking law; insurance law; trusts, estate planning and probate; First Amendment and media law and environmental matters. Hull Barrett represents a broad client base of major corporations, small businesses, professional entities, financial and lending institutions, local governments, public authorities, public utilities, railroad companies, insurance companies, health care institutions and individuals.
Hull Barrett is also a member of the International Society of Primerus Law Firms (Primerus.) Primerus is an international society of top-rated, independent, boutique law firms that have earned the right to display the Primerus seal of quality. As one of the most respected law firm societies, Primerus has over 170 member firms in 125 cities located in over 25 countries throughout the world. Primerus has become the size of some of the world's largest law firms. However, unlike most large firms, Primerus is growing at an unprecedented pace, and is expanding throughout Europe, Asia, and elsewhere around the globe. In every country, Primerus lawyers have the skill and experience to advise clients on the international aspects of their transactions. High quality legal services at reasonable fees – that's how Primerus can work for you. To learn more about how Primerus can provide the trusted legal advisors you need, visit http://www.primerus.com or call 800-968-2211.
# # #