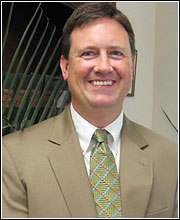 The program has been designed to help lawyers and other professionals to understand the unique characteristics of IRA trusts and to prepare them for specific challenges that are associated with these trusts.
Chapel Hill, N.C. (PRWEB) January 12, 2012
Chapel Hill estate planning lawyer Gregory Herman-Giddens will provide a comprehensive overview of popular IRA trusts in a National Business Institute (NBI) teleconference seminar later this month.
Attorneys who are looking to increase their knowledge of IRA trusts can earn continuing legal education (CLE) credit by participating in the seminar, which will be held from 2-3:30 p.m. (EST) on January 27. According to Herman-Giddens, the course may also benefit financial planners, accountants, CPAs and trust officers.
To learn more about the program or to register for the course, "How to Draft IRA Trusts," visit the NBI website or call (800) 930-6182. An audio CD and CD-ROM course book also will be available.
"The program has been designed to help lawyers and other professionals to understand the unique characteristics of IRA trusts and to prepare them for specific challenges that are associated with these trusts," said Herman-Giddens, the president of the Chapel Hill estate planning and tax law firm TrustCounsel.
In addition to providing a comprehensive overview of IRA trusts, the program will include drafting tactics, sample trust provisions and discussion of the advantages of IRA trusts, Herman-Giddens said.
Since 2003, IRS Regulations have permitted a non-spouse beneficiary of an Individual Retirement Account (IRA) to "stretch" the taxable required minimum distributions (RMDs) from IRAs over his or her actuarial lifetime.
In order to maximize that income tax stretch, people have increasingly named trusts as IRA beneficiaries, according to Herman-Giddens. Establishing an IRA trust, he said, helps to avoid problems that can arise when an individual is the IRA beneficiary, such as access to the IRA by creditors.
"However, under the IRS Regulations, the IRA trust must meet a number of requirements in order for the RMDs to obtain maximum 'stretch-out' over the lifetime of the trust's beneficiaries," he said. "This program will discuss those requirements."
Herman-Giddens is a certified specialist in estate planning and a certified financial planner. He has more than 19 years of experience in assisting clients with estate planning, probate, trust administration, asset protection and taxation issues.
He is licensed in North Carolina, Tennessee, Florida, New York and England and Wales (Solicitor). He also is admitted to practice before the U.S. Supreme Court and the U.S. Tax Court.
Herman-Giddens frequently presents to attorneys and financial planners and contributes to legal and other publications. He is the publisher of the nationally recognized and syndicated North Carolina Estate Planning Blog.
About TrustCounsel
TrustCounsel is a North Carolina estate planning and tax law firm with offices in Chapel Hill and Pittsboro. The firm serves clients throughout North Carolina, Florida, Tennessee and New York. Practice areas include: estate planning (wills, living trusts, powers of attorney, health care powers of attorney, living wills, HIPAA authorizations); trusts (charitable trusts, life insurance trusts, special needs trusts, generation-skipping trusts and dynasty trusts, marital trusts, NFA trusts); taxation (tax planning, retirement distribution planning, tax return preparation, self-directed IRA taxation issues, representation before the IRS and state taxing authorities); fiduciary administration (estate administration / probate, trust administration, guardianships); property agreements (premarital agreements, post-marital agreements, joint ownership agreements); business law (buy-sell agreements, consulting agreements, non-competition agreements, corporations, family limited partnerships, limited liability companies, non-profit organizations); asset protection planning (offshore and domestic trusts, limited liability entities); real estate matters (deeds, promissory notes, deeds of trust); partition proceedings (court-ordered sale or division of land); elder law (Medicaid planning, veterans benefits); and probate and trust litigation.
To learn more, call TrustCounsel at (800) 201-0413 or use the firm's online contact form.
###