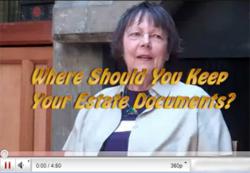 I was asked where you should keep estate planning documents
San Rafael, CA (Vocus/PRWEB) April 08, 2011
In a new five-minute video on the storage of estate planning documents, Marin estate and trust attorney Julia P. Wald's new video provides a comprehensive explanation on where individuals should keep everything from wills to trusts to powers of attorney for healthcare.
"I was asked where you should keep estate planning documents," explains Wald, an Marin estate planning attorney. "The flippant answer is 'some place very secure.'"
Some of Wald's favorite storage locations challenge popular wisdom. While she protects the original documents for many of her clients in her office's safe, Julia says that keeping wills in a bank safe deposit box is a good alternative. Locking a will in safe deposit box does not pose a problem for retrieval after a person's death.
"Somebody will be allowed to go in after your death and open up the safe deposit box," said Wald," with the bank officer standing there watching to make sure no one takes the diamonds out and gold coins!"
The real problem with storing valuables in a safe deposit box, in Julia's experience, is the location of the box key is often not disclosed to the heirs.
"They'll tell the kids that the will is in the safe deposit box and no one goes the next step to ask: 'Where is the key to the safe deposit box?'" said Wald. Not knowing where to find the key causes unnecessary delay, aggravation and expense.
Unlike the need to present the original will in court procedures, Julia notes that copies of health care directives are just as functional as the original. When someone is ill, there's no need to scramble to find the original so long as a copy is available. Julia suggests that individuals give a copy to their physician for their permanent medical file. She also recommends that one be brought to the hospital for any planned medical procedures.
In the video, Wald provides offers more suggestions on document storage and safeguarding. Her recorded comments were part of an exploration of estate planning FAQs presented at a seminar Julia conducted in San Francisco April 3rd.
She recommends that people consult with an estate planning attorney local to them for advice about their specific situation.
For more information about storage of estate planning documents or any of the estate planning services offered by the Law Offices of Julia P. Wald, call them at (415) 482-7555 or view them on the web at http://www.waldlawyers.com.
About the Law Offices of Julia P. Wald
The Law Offices of Julia P. Wald is a law firm that specializes in San Francisco Bay Area estate planning, probate and trusts, and conservatorship. Julia P. Ward has been named top attorney in Northern California by Super Lawyers for six years, most recently in 2009 and 2010. They feature accredited San Rafael attorneys who have experience in many aspects of estate planning, in addition to wills in Marin County and San Francisco Bay Area living trusts.
As a San Francisco Bay Area attorney, Wald is a member of the California State Bar and has been certified by the California Board of Certification as a Certified Specialist in Probate, Estate Planning, and Trust law since 1990. She has been practicing estate planning law in the San Francisco Bay Area for 25 years. The Law Offices of Julia P. Wald serves the communities of Marin County, San Francisco and the San Francisco Bay Area.
###