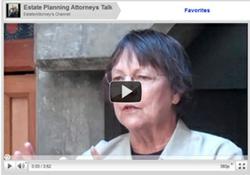 If the Schwarzeneggers divorce, it's likely that they will be gently guided by their attorneys' into updating their trusts and wills. You, too, need to talk to an estate planning attorney if you get divorced. And there are other times when you
San Rafael, CA (Vocus/PRWEB) June 29, 2011
Governor Arnold Schwarzenegger and Maria Shriver's announced separation in last month is a personal tragedy for the couple, but it is a teachable moment, according to Marin estate and trust attorney Julia P. Wald. The couple's separation will trigger many legal issues if the estrangement leads to a divorce, Wald notes. Their situation illustrates how wills and trusts need to be re-examined at key points in people's lives.
"If the Schwarzeneggers divorce," she says, "it's likely that they will be gently guided by their attorneys' into updating their trusts and wills. You, too, need to talk to an estate planning attorney if you get divorced. And there are other times when you should find your trust and will at least read them."
When couples divorce, Wald advises that they absolutely must examine their trusts, wills, and other estate documents. "In California, a divorce will invalidate any gift to the spouse in a will created during the marriage, unless you have specifically stated that your gift will be valid even after a divorce. This can wreak havoc with your intentions."
"If you listed only your ex-spouse in the will," she cautions, "then when you die the inheritance laws of the State of California will control who receives your assets. Estranged siblings, distant relatives, or even the State itself could inherit your estate."
Of course, Wald continues, people need to look at their wills and trusts when events other than divorce occur.
Happy milestones, like the birth of grandchildren or an increase in wealth also cause family members to pull out their estate planning documents to make sure that they still reflect their situation, according to Wald. A significant decrease in net worth also requires a reexamination of plans.
In a new video on re-examining trusts and wills, Wald talks about divorce, births, law changes and other events that cause prudent people to review their estate planning documents.
Many people's documents may list assets they no longer own, and the documents may not say anything about new property they have. Originally named recipients may have passed out of their lives and new family members may have been born. They may have written the documents to take advantage of tax laws that have been replaced. In all these cases, Wald concludes, examining estate documents is essential for ensuring that the assets are distributed according to the estate holder's wishes.
For more information about updating trusts and wills, or any of the estate planning services offered by the Law Offices of Julia P. Wald, call them at (415) 482-7555 or view them on the web at http://www.waldlawyers.com.
About the Law Offices of Julia P. Wald
The Law Offices of Julia P. Wald is a law firm that specializes in San Francisco Bay Area estate planning, probate and trusts, and conservatorship. Julia P. Ward has been named top attorney in Northern California by Super Lawyers for six years, most recently in 2009 and 2010. They feature accredited San Rafael attorneys who have experience in many aspects of estate planning, in addition to wills in Marin County and San Francisco Bay Area living trusts.
As a San Francisco Bay Area Estate and Trust attorney, Wald is a member of the California State Bar and has been certified by the California Board of Certification as a Certified Specialist in Probate, Estate Planning, and Trust law since 1990. She has been practicing estate planning law in the San Francisco Bay Area for 25 years. The Law Offices of Julia P. Wald serves the communities of Marin County, San Francisco and the San Francisco Bay Area.
###