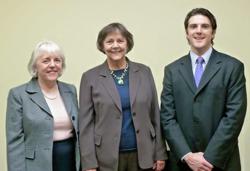 When you draft the legal documents and are still healthy and relatively young, you should review options for insurance
San Rafael, CA (PRWEB) September 24, 2011
Although ensuring a living trust, will and advanced healthcare directive are all signed and put away somewhere safe is critical to an estate plan, there is still the matter of insurance. In her current Marin estate planning newsletter, San Francisco Bay Area estate planning attorney Julia Wald discusses the importance of insurance in an estate plan.
"When you draft the legal documents and are still healthy and relatively young, you should review options for insurance," said Wald. "You don't want to need insurance later and then be unable to obtain it because you have reached an advanced age or because your health is less than ideal."
Wald recommends that individuals and families consider three types of insurance:

Life Insurance to provide beneficiaries living expenses and money to pay estate taxes
Disability Insurance to help support the individual and the family with living expenses and needed medical care
Long-Term Care Insurance to pay for someone to take care of the individual or a family member in the unfortunate event such services are needed
Wald strongly suggests that self-employed persons examine disability insurance. "Buy enough," she instructs. "Buy all you can afford. It is terrible enough to be unable to operate your business, but it is much worse to leave yourself and your family hurting for money and go wanting."
Wald and her firm do not sell insurance and do not get paid by any agent to steer clients to them. "We don't realize any financial gains by helping a client get the right insurance policies, so we are a good resource for people to call to get a referral to an agent," said Wald. "We will put you in touch with a professional agent who knows how to help you determine your needs."
For her latest free newsletter and other estate planning needs, contact the Law Offices of Julia P. Wald by phone at (415) 482-7555 or on the web at waldlawyers.com.
About the Law Offices of Julia P. Wald
The Law Offices of Julia P. Wald specializes in San Francisco Bay Area estate planning, probate and trusts, and conservatorships. They feature accredited San Rafael attorneys who have experience in many aspects of estate planning including assisting with wills in Marin County and San Francisco Bay Area living trusts.
As a San Francisco Bay Area estate attorney, Wald is a member of the California State Bar and has been certified by the California Board of Certification as a Certified Specialist in Probate, Estate Planning, and Trust law since 1990. She has been practicing estate planning law in the San Francisco Bay Area for 25 years. The Law Offices of Julia P. Wald serves the communities of Marin County, San Francisco and the San Francisco Bay Area.
###