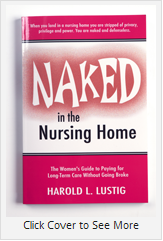 This book takes a complicated subject and breaks it down into bite-sized pieces anyone can understand
San Rafael, CA (PRWEB) May 21, 2012
"Naked in the Nursing Home" by Marin County financial planner Harold Lustig, of Harold Lustig Estate and Elder Planning Associates has been named a ForeWord Reviews 2011 book of the year finalist in the family and relationships category. The book aims to provide a guide for long-term care issues. With Armed Forces Day on May 19, help for veterans can be found in Chapter Four of "Naked in the Nursing Home," which focuses on a little-known monthly pension benefit for wartime veterans who pay for long-term care.
"This book takes a complicated subject and breaks it down into bite-sized pieces anyone can understand," CPA attorney Dave Zumpano said.
Lustig has devoted his life and career to helping seniors protect their assets and enjoy a higher standard of living in their old age. He focuses on increasing income, reducing tax obligations and simplifying retirement, estate and long-term care planning for the elderly.
As a financial planner in Marin, Lustig is founder and CEO of the Estate and Elder Planning Associates and managing member of Lustig Financial Services. He has more than 30 years of experience in financial planning, is a chartered life underwriter and chartered financial consultant, and holds licenses in life/health insurance and investment advising.
In 1999, he authored the first financial and estate planning book for homosexual couples, "Four Steps to Financial Security for Lesbian and Gay Couples," and "Naked in the Nursing Home" provides readers with valuable long-term care insight.
For more information about "Naked in the Nursing Home" or any of Harold Lustig's services, call 415-295-6698 or 415-472-1290, or view Harold Lustig on the Web at http://www.haroldlustig.com. The offices of Harold Lustig and Estate and Elder Planning Associates are located at 70 Mitchell Blvd., Suite 104, in San Rafael.
About Harold Lustig, and Estate and Elder Planning Associates
The purpose of Estate and Elder Planning Associates is to help protect wealth from the high cost of nursing care, reduce taxes, increase income and transfer wealth on a tax-free basis to a client's heirs. Estate and Elder Planning Associates provides insurance planning, estate planning, retirement planning, elder care planning, long-term care planning, asset preservation and income distribution. It also assists veterans and their loved ones, and answers Medi-Cal questions.