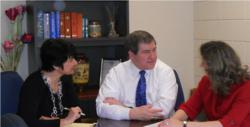 Vallejo, CA (Vocus/PRWEB) March 06, 2011
In 2010, Norbert U. Frost, a Solano and Napa County estate planning and family law attorney, was invited by the Solano County Superior Court to become a trained mediator for the court's new No Fee Mediation Program. Mr. Frost completed the 42-hour program, "Mediating the Litigated Case," through the highly reputable Straus Institute for Dispute Resolution at Pepperdine University School of Law. Frost now donates time to provide free mediation services designed to resolve cases before they go to court.
The Straus Institute for Dispute Resolution is one of the world's leading educational programs in the field of dispute resolution. Recognized as the foremost academic center of its kind, the Institute brings together an unparalleled full-time teaching and research faculty with scholars and practitioners from throughout the U.S., Canada, Latin America, Asia and Europe. The Straus Institute has been ranked as the #1 law school dispute resolution program in the nation for the 6th consecutive year by U.S. News and World Report: Guide to Graduate Schools.
After completing the training, in late 2010, Mr. Frost began donating his time to the Solano County Superior Court as a mediator of currently active civil litigation. In mediation, a neutral mediator helps parties on both sides work out their differences through a confidential process. The parties participate in discussions and negotiations aimed at finding a way to resolve the conflict.
The mediations take place at the Law Offices of Norbert U. Frost in Vallejo or the Solano County Superior Court's Mediation Center. The Solano County Superior Court assigns certain cases to its No Fee Mediation Program where civil litigants are provided with free mediation services in an effort to resolve their cases without the need for time-consuming and expensive court trials.
For more information about mediation services, or any other services, call (707) 553-7356 or visit them on the web at http://www.nfrostlaw.com.
About Norbert U. Frost
Norbert U. Frost is a Solano and Napa County family attorney who specializes in divorce, legal separation and annulment, child custody and visitation, child support, spousal support, property/asset and debt division, retirements, pensions, domestic partnerships, adoptions, conservatorships, guardianships, estate planning, wills, trusts, advanced health care directives, probate, mediation, dispute resolution services, real estate transactions, real estate litigation, and civil litigation.
The Law Offices of Norbert U. Frost serves the San Francisco Bay Area communities of Benicia, Cordelia, Fairfield, Green Valley, Vallejo, American Canyon, Napa, Napa Valley, St. Helena, and Yountville.
# # #