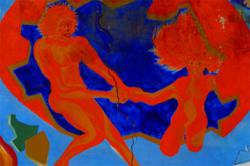 Divorce is one of the most stressful things you will encounter in your lifetime. Hire an experienced attorney you trust to help you effectively navigate this complicated process.
Vallejo, CA (Vocus/PRWEB) May 04, 2011
Finding an attorney during a difficult time in life, life a divorce, can add additional stress. Family law attorney Norbert U. Frost offers 8 tips people should take to make the most of their attorney-client relationship.
As of 2008, according to Wikipedia, 40% of first marriages had ending in divorce. And while no one plans for divorce, it is important to know what to do if it should happen. One of the first and most important decisions people have to make when facing divorce is the selection of a family law attorney. Norbert U. Frost, a Solano Family Law attorney in Solano County with over 20 years of experience, says there are eight important things to take into consideration.
1. Comfort - The initial consultation is an opportunity to see if you feel comfortable with the person, their expertise and their advice. The attorney should answer your questions and not minimize your concerns. Trust your feelings.
2. Experience - Retain an attorney with significant experience in handling divorces. While they may be more expensive per hour, they have more knowledge and in the long run will be both cost and time effective.
3. Disposition - Be careful seeking out certain character traits in an attorney, you may get more than you bargained for. Hiring an overly aggressive attorney does not mean you will have a better chance of "winning"; instead they may fan the flames of conflict rather than move toward resolution, which will extend the case and increase your legal fees and costs.
4. Post-Divorce Services - The attorney should understand divorce is a major change for a family and more than the "bottom line" will be affected. A good family attorney is willing, when necessary to work with your therapist. He/she is focused on the family's post divorce situation and understands the interconnectedness of the family does not end with the dissolution of the marriage. They should be able to see beyond the legal maneuvering and understand the emotional, social and financial impact on you and your family.
5. Proper Engagement - Use your therapist to help you work through the emotions and feelings, and your attorney to work through the legal issues. Don't confuse the two. Efficient utilization of your professionals will keep costs down and provide you with better information and effective support.
6. Share Details - Share pertinent information with your attorney, even if you find it embarrassing to do so. Your attorney is not there to judge you, and if you don't give him/her the information they need, you seriously hamper their ability to effectively represent you. Never assume that drinking, abuse or affairs are not relevant even if you live in a "no fault" state. Underreporting or minimizing can result in your not getting the best settlement.
7. Stick to the Facts - The emotions get processed with your therapist.
8. Negotiate Fees Up Front - Talk frankly about costs up front and what you will be charged for. Recognize that estimated fees and costs vary depending on the complexity of the issues, the parties' emotions, and how much or little the two sides want to fight and compromise.
Frost also advises people to keep an objective attitude regarding the legal system and expectations realistic.
For answers to questions about how to select a divorce attorney or any other family law matter, contact Norbert. U. Frost by phone at (707) 656-4235 or on the web at http://www.nfrostlaw.com.
About Norbert U. Frost
Norbert U. Frost is a Solano County family attorney who specializes in divorce, legal separation and annulment, child custody and visitation, child support, spousal support, property/asset and debt division, retirements, pensions, domestic partnerships, adoptions, conservatorships, guardianships, estate planning, wills, trusts, advanced health care directives, probate, mediation, dispute resolution services, real estate transactions, real estate litigation, civil litigation, and is a [Solano County estate planning specialist.
The Law Offices of Norbert U. Frost serves the San Francisco Bay Area communities of Benicia, Cordelia, Fairfield, Green Valley, Vallejo, American Canyon, Napa, Napa Valley, St. Helena, and Yountville.
# # #