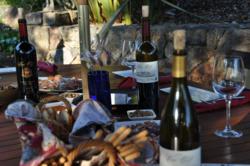 We'll provide a tasting of our limited-production wines, along with a varied selection of local artisan cheeses, charcuterie, olives and olive oil, almonds, baguettes and crackers, and other seasonal complements
Napa, CA (PRWEB) May 30, 2012
Napa's Vine Cliff Winery is providing everything a wine tourist wishes in a once-in-a-lifetime wine country experience: a private tour of Vine Cliff Winery's production facility, vineyards and caves. After, guests will be seated at one of Vine Cliff's comfortable picnic tables to enjoy the great views of the landscaped grounds and vineyards.
"We'll provide a tasting of our limited-production wines, along with a varied selection of local artisan cheeses, charcuterie, olives and olive oil, almonds, baguettes and crackers, and other seasonal complements," Rob Sweeney, proprietor of Vine Cliff Winery, said. "Following the tasting, we'll leave you on your own to enjoy lunch and the beauty of the surroundings."
This wine country experience is available for just $75 per guest, exclusive of any additional wine that customers may choose to enjoy with their meal. Reservations a minimum of 24 hours in advance are recommended for guests. Groups of up to eight guests can be accommodated, and larger parties should inquire as to Vine Cliff's availability.
Vine Cliff Winery maintains a commitment to live up to its historic legacy by working with the best possible fruit and the best winemaking technology to make the high-scoring wines in its portfolio. For the past few years, the Sweeney family has invested heavily in vineyards located in the most desirable grape-growing locations.
For more information about Vine Cliff Winery's tasting room or to make reservations, call 707-948-6296 or 707-944-1364, view the winery on the Web at http://www.vinecliff.com, or visit 7400 Silvarado Trail in Napa Valley.
About Vine Cliff Winery
Founded in 1871 and owned and operated by the Sweeney family since 1985, Vine Cliff Winery focuses on producing Cabernet Sauvignon from its estate wine vineyard in Oakville and Chardonnay from its vineyard in the Los Carneros District.