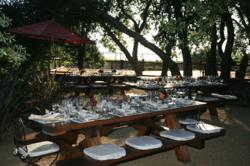 Relax at one of our picnic tables overlooking our pond while enjoying a family-style picnic lunch
Napa, CA (PRWEB) July 06, 2012
Nestled in a quiet canyon above the Silverado Trail in the world famous Napa Valley stand the breathtaking vineyards of Vine Cliff Winery. Winery guests can experience the rugged elegance that defines Vine Cliff, with grounds that are beautifully landscaped to encompass the natural beauty of the geographical location. In addition, the Napa estate wine and cabernet sauvignon producer is now arranging private dinners for guests in its barrel aging cave or in one of its secluded picnic areas.
Depending on the weather, visitors may also enjoy the "Wine Country Picnic Experience," which includes a full winery property tour and hosted wine tasting. These tours are offered seasonally and need to be reserved with an appointment 24 hours in advance. It costs $75 per guest, and the wines are available for purchase to enjoy with lunch.
"Relax at one of our picnic tables overlooking our pond while enjoying a family-style picnic lunch, including local artisan cheese and charcuterie, an assortment of olives, nuts, baguettes and exclusive chocolates from Napa's La Forêt," Rob Sweeney, proprietor of Vine Cliff Winery, said.
Vine Cliff Winery also offers private tours and tastings for visitors to learn about its history and winemaking philosophy on a guided tour of the property. The tour lasts about 60 minutes, and includes a full tour followed by a hosted wine tasting at its tasting room.
For more information about private dining at Vine Cliff Winery or to arrange an appointment to visit, call 707-948-6296 or 707-944-1364, or view the winery on the Web at http://www.vinecliff.com. Vine Cliff Winery is located at 7400 Silverado Trail in Napa Valley.
About Vine Cliff Winery
Founded in 1871 and owned and operated by the Sweeney family since 1985, Vine Cliff Winery focuses on producing cabernet sauvignon from its estate wine vineyard in Oakville and chardonnay from its vineyard in the Los Carneros District.