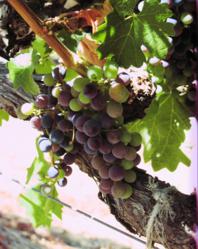 The cabernet is liking the heat and sizing up nicely
Napa, CA (PRWEB) August 03, 2012
Vine Cliff Winery, featuring the best fine wines and estate wines in Napa, is thankful for the perfect grape-growing weather this year. If the weather holds, this year's harvest of grapes will turn into an excellent vintage, especially for the cabernet sauvignon grapes that require a constant dose of sunshine and warmth.
"The cabernet is liking the heat and sizing up nicely," Rob Sweeney, proprietor of Vine Cliff Winery, said. "Veraison (when the grapes start coloring up and building sugars) has started throughout our vineyards and should be complete within a week or two."
Vine Cliff Winery creates rich, full-bodied cabernet sauvignon wines, as well as chardonnay, from the vines it grows in Napa Valley and estate wines that capture the essence and magic of the region.
Along with enjoying the excellent climate, Vine Cliff Winery also prides itself on the leanness of its soil. Since 1990, the winery has been practicing sustainable viticulture and natural farming. Rob Sweeney serves as the vineyard manager, as well as the proprietor, and spends part of every day working in the vines.
"The farmer's shadow on the vines is the best fertilizer," Sweeney said.
The most ecologically complex and diverse biosystem has been established at Vine Cliff estate vineyards over the years and has resulted in the protection of its wildlife and habitat.
For more information about Vine Cliff Winery or to arrange an appointment to visit the winery at 7400 Silverado Trail in Napa Valley, call 707-948-6296 or 707-944-1364, or view the winery on the Web at http://www.vinecliff.com.
About Vine Cliff Winery
Founded in 1871 and owned and operated by the Sweeney family since 1985, Vine Cliff Winery focuses on producing cabernet sauvignon from its estate wine vineyard in Oakville and chardonnay from its vineyard in the Los Carneros District.