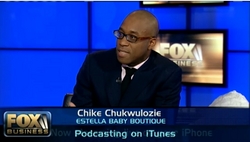 Solution to Recession is Focus on Quality, Not Cost!
New York, NY (PRWEB) March 4, 2010
Estella, New York City's premier destination for luxury children's clothes, is going strong while other businesses struggle to define themselves in response to economic hard times. The key, says owner Chike Chukwulozie, is a commitment to quality, rather than price-cutting.
Established in 2002, Estella is located in Greenwich Village, at the epicenter of Manhattan's newest luxury shopping district. The store and its web site offer a unique selection of opulent, imported baby clothes, toys, baby boy clothes, gear, baby girls clothes, furniture, and clothes for children (up to size 6).
Chukwulozie was interviewed by Fox Business News online for their story, "Luxury: Standing Strong During Slowdown." "I believe one of the reasons that my business is doing so well is that affluent parents who may cut back on their own indulgences are still eager to indulge their children and unapologetically provide them with the very best that money can buy," he reports.
An Idea That Works
While other businesses struggle to find a new business model, Estella stands strong on its original brand concept. "Our focus remains unchanged, with an emphasis on quality not cost," says Chukwulozie. "Estella is dedicated to providing an unparalleled shopping experience for parents, grandparents, and everyone who wants to indulge children in nothing but the best."
"In the U.S. alone, children's clothing sales are expected to reach $131.5 billion by 2012," observes Chukwulozie. "I think these figures clearly demonstrate that if there's one thing that parents don't skimp on, it's their children."
They Work Hard for the Money
21st Century parents are typically older than in the previous century, waiting until their late thirties to have kids. "Our customers come from all walks of life. They're bankers, artists, and celebrities," says Chukwulozie. "They generally work 40 to 65 hours per week and have individual incomes in excess of $150,000."
Chukwulozie is quick to acknowledge that "luxury is a treat not a necessity. But some people are fortunate enough that they can enjoy a treat as often as they like." He notes that affluent families manage expenses, when necessary, by trading down for certain items (such as buying staples in bulk at Costco), but "historically they 'trade up' when buying products for loved ones, especially their children."
Luxury Branding Starts Early
"There will always be parents who want their kids to enjoy the quality and fashion that our brands deliver," says Chukwulozie. He believes that ultra-premium labels give families a chance to offer their children beautifully-designed clothing that feel fantastic and last longer than lesser brands. That's why Estella carries toys and baby clothes -- including baby onesies priced at $32 and up -- from some of the most prestigious designers in the world, including Album Di Famiglia, Bon Bon (known as Bon Ton in Paris), Munster Kids, Max & Lola.
Estella also offers its own brand of luxury. Estella brand baby luxury clothing includes basic lap tees & leggings for babies and toddlers ($24-$30); children's playthings like the Estella brand hand-knit toys and baby rattles
"Our customers know and understand the value of quality," says Chukwulozie. "The pieces we sell are meticulously crafted and serve as cherished keepsakes long after a child has grown."
A Shopping Destination and Source of Inspiration
"Adult consumers have long looked to Europe for fashion and style inspiration," says Chukwulozie. "Estella gives parents an opportunity to get that same fashion-forward sensibility for their children." But parents are not the only people inspired by the stylish children's clothing at the downtown boutique. In an interview for the New York Post, designer Isaac Mizrahi lists Estella as one of his favorite New York spots. "It's a children's store, and it has beautiful, tiny clothing. I sort of look forward to people I love having babies because then I get to go in there and buy stuff."
The store is even popular with the film and TV community. "Estella is a symbol of luxury for people who can afford it," explains Chukwulozie. Recently, Becki Newton and Michael Urie, the power couple of the ABC series "Ugly Better' pranced down Hicks Street in Brooklyn carrying Estella baby store shopping bags.
To view the Fox News Interview, you can visit http://video.foxsmallbusinesscenter.com/v/4015113/40-for-a-onesie?category_id=87013
For more information about Estella, to view a list of its luxury brands and online catalogue, and to place an order, please visit our website.
About Estella
Estella, New York City's premier destination for luxury baby girls' clothes, toys, baby boys' clothes, children's clothes, furniture, and gear, and its online presence Estella-nyc.com, deliver fashion-forward style for youngsters. Estella is the leader in designer children's clothes, introducing new brands with different point of view to American buyers. Distinguished by both its merchandise and white-glove, personalized service, Estella provides an unparalleled shopping experience for parents, grandparents, and everyone who want to indulge children in the very best the world has to offer. For more information about Estella and to view the store's online catalogue of merchandise, please visit our website.
Contact:
Chike Chukwulozie
Estella
chike(at)estella-nyc(dot)com
212-255-3553
http://www.estella-nyc.com
###