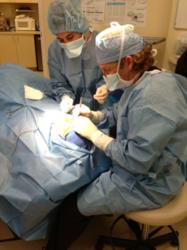 Mo and I have talked for years about doing an upper blepharoplasty - Dr. Greg DeLange, M.D.
Palm Beach Gardens, FL (PRWEB) May 24, 2013
In a coup that surely made other Palm Beach plastic surgeons jealous, Dr. Greg DeLange of the Estetica Institute of the Palm Beaches performed eye surgeries on each of the hosts of KOOL 105.5 FM's popular morning show, "The Mo & Sally Morning Show." The DJ's talked on the air about their experiences and their satisfaction with the results, giving Dr. DeLange and the team at the Estetica Institute, a cutting-edge facility located in Palm Beach Gardens, very valuable free publicity.
Dr. DeLange, the owner of the Estetica Institute, performed similar but different procedures on the two DJ's of the radio show. Dr. DeLange performed an "eye lift" on Sally, and then performed a "blepharoplasty" on Mo. The two anti-aging procedures made each of the DJ's appear years younger.
Dr. DeLange and the team at the Estetica Institute offer a full range of cosmetic surgery procedures, as well as non-surgical treatments that make patients look more attractive, more youthful and slimmer. While women make up a majority of the facility's patients, men comprise a growing proportion of the patients at the facility, in line with national trends. The facility offers the aforementioned surgical procedures as well as Palm Beach facelifts, Palm Beach body lifts, breast lifts and a wide selection of non-surgical dermal fillers. Patients from cities such as Lake Worth, Jupiter and West Palm Beach can undergo lap-band procedures, Palm Beach liposuction procedures, Palm Beach tummy tucks and other body-contouring procedures. The facility also offers brachioplasty, the latest hot trend in cosmetic surgery, which involves removal of excess skin from patients' upper arms.
The Estetica Institute offers numerous breast enhancement procedures as well, including breast augmentation Palm Beach procedures and breast reduction procedures.