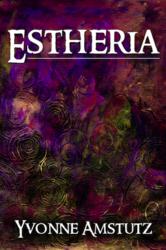 People should read this book if they like fantasy with happy endings.
Münsingen, Switzerland (PRWEB) May 09, 2012
On a cliff above a fortress, a hero and his dragon, who can communicate using telepathy, get their bearings. They are here in response to an urgent call that they both felt, and are about to part company so that the hero can try to find the source of the plea for help, which he is sure came from within the fortress. So begins "Estheria", a new work of short fiction by Yvonne Amstutz.
In Amstutz's tale, the hero faces two immediate challenges in what he must presume is a hostile environment–otherwise, he would not have been summoned–but with no overt signs of evil. First, he hopes to gain entrance to the fortress without drawing attention to his powers, which he would do if he exercised any of them, but also, might do simply by speaking. Although he has a luminous insignia engraved on his wrist that guarantees him entrance to the fortress, he hopes to be discreet and keep this fact known to as few as possible.
Second, he has to find the source of the distress call without drawing attention to himself. Without knowing where in the fortress to look, he is at a distinct disadvantage. And only by overcoming both of these two initial challenges without detection can he hope to find the caller and engage in the task for which he was summoned.
As is frequently true in fantasy, the hero finds help along the way. Besides his trusty dragon, help comes from a shape shifter, and interdimensional oracle, and other, completely unexpected, sources. During the adventure, immortal characters who are used to living at the height of their powers have the opportunity to explore the mortal side of existence with its dependence on physical sensation, need for sleep, and other limitations.
There are different ways to categorize fantasy, and one scheme would be to classify works by the type of ending they have. After all, at any particular time, readers may or may not wish to read a story in which evil triumphs, the outcome is ambivalent, or good unabashedly conquers evil. Amstutz doesn't beat around the bush in describing her tale. "People should read this book if they like fantasy with happy endings," she says.
"Estheria" is published exclusively in eBook format and is now available from popular online retailers, including Amazon.com, Barnesandnoble.com, and Kobobooks.com.
About Yvonne Amstutz
Yvonne Amstutz, who lives in a town near Bern, Switzerland with her two-year-old daughter, has Bachelor of Social Science degree with a major in Law and Economic History. This is her first book.
About eBookIt.com
Since 2010, eBookIt.com (based in Sudbury, Massachusetts) has helped thousands of authors and publishers get their books converted to ebook format, and distributed to all the major ebook retailers, including Amazon.com, Barnesandnoble.com, Apple iBookstore, Kobo, Sony Readerstore, Ingram Digital, and Google eBookstore.
###